Oh the Christmas list! Not your kids Christmas list……but YOUR Christmas TO DO list!! October, November and December seem to fly by so fast it almost makes me a little sad! Three great holidays all shoved into 3 months. It gets so busy at times you sometimes lose focus of what those holidays are really about, especially Christmas! Every year my family goes to Mexico for Christmas, so I only have a week and a half after Thanksgiving to really focus on getting Christmas done. This year I am planning ahead so I can enjoy those weeks a little more.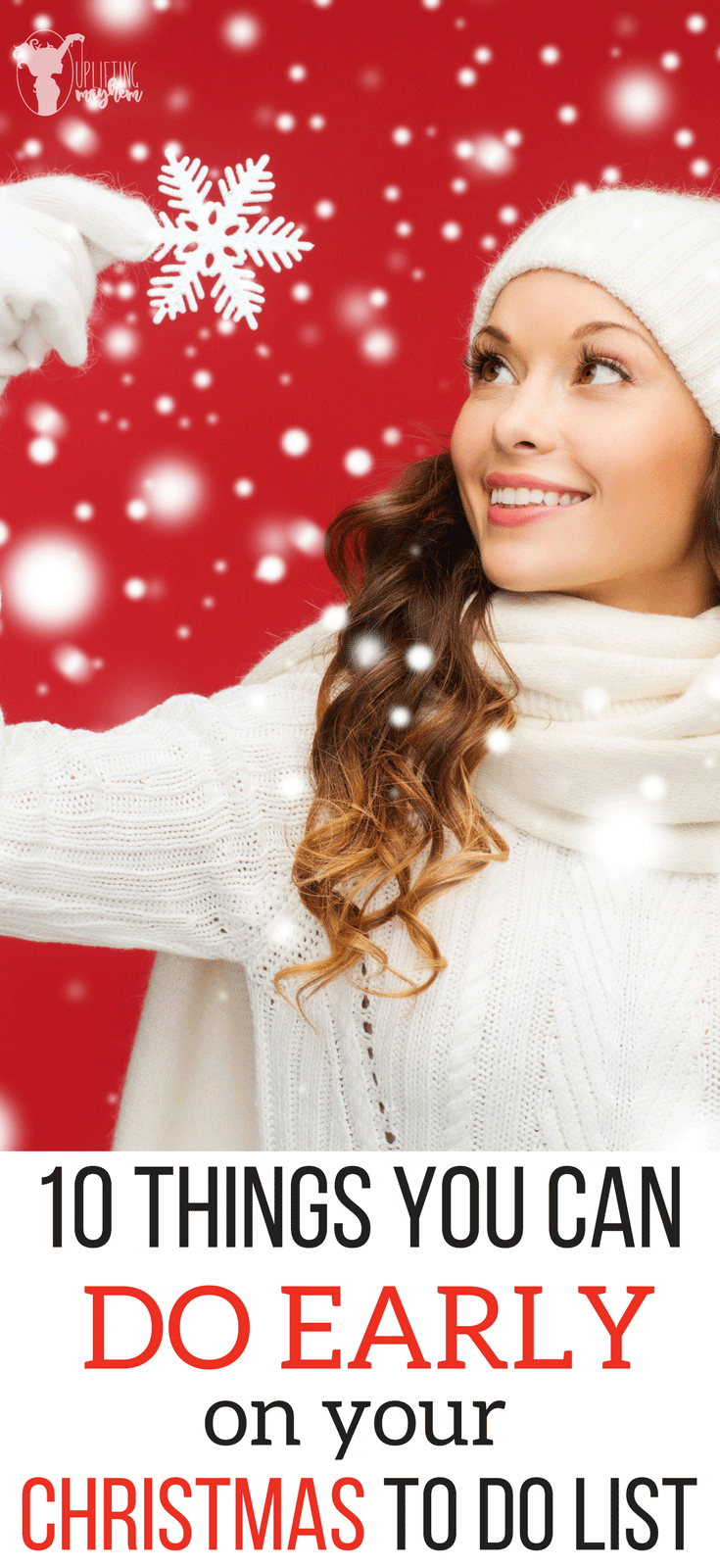 Here is a list of items you can do now, to jumpstart your holiday planning and start checking off that Christmas List!
#1 – Make/buy your neighbor gifts
If you love to make homemade goodness then this isn't an option for you! However if you are feeling like you want to get something done fast and easy then this is something you can totally do ahead of time. Here is a post that has multiple cute neighbor Christmas gifts that you can make ahead of time! Check it out!
#2 – Buy wrapping paper, tape, and stamps
I don't know how many times I have went to go wrap presents and ran out of wrapping paper! So frustrating, especially when life gets so busy and your time is precious! It's best to be prepared now and get ready for it ahead of time! There are lots of cute Christmas wrapping paper on Amazon. Check out these jumbo rolls so you don't run out
#3 – Create your Christmas cards, address and stamp them.
EVERY YEAR I put this off, OR I print them off early and then I don't have stamps. I'm so excited to get these out of the way early this year! I get mine done at Walmart every year. Their prices are affordable and tons of designs to choose from.
Once you get them, (BEFORE THE CRAZY ALL STARTS) label them and put that stamp you bought above on it. Keep it tucked away neatly until you are ready to sent them out! BOOM!! All done!
#4 – Buy Christmas presents for your children
My husband and I have already started making a list of items for Christmas we are getting our kids. We don't do a huge Christmas because we like to focus on giving a Christmas experience rather than a bunch of things. We usually do 4 items. These items usually include something they:
Want

Need

Wear

Can Read
I have many friends who wait for Black Friday, and go all crazy at getting all of their kids Christmas presents. If this is you, then start making a list of what you are going to get for your kids. Watch those items on Amazon who always has deals on different items if you watch them.
Here is a post on Tough Long-Lasting Toys for Boys and
Here is a post on Fun and Affordable Gifts for Girls Ages 8-10
#5 – Create a plan to serve/help a family this Christmas season
Keep your eye out for a family or a child who may need a little extra in their life. We love to pick a family, or pick from an angel tree and have our kids pick out a present for those kids. My kids really love to do this.
#6 – Schedule your time off of work now
Plan something special as a family that is out of the norm. Take a day off and go do something as a family over Christmas break. These are the moments that your kids will remember. This is part of giving them experiences instead of things.
#7 – Put up your Christmas lights
Oh man there are so many benefits to doing this. Just because you hang them, does not mean you need to turn them on. Benefits are you aren't frozen when you hang them first of all. Second, you aren't going to slide off of your ladder because you can barely feel your toes and fingers. Lastly you remove the stress of asking your husband to finally put up the lights in the freezing cold weather!! HA HA
We actually found a way to keep our lights up ALLLL YEAR ROUND!! Fabulous! We bought these LED lights. This link will take you to a bunch of different options you can choose from. For our home we bought these specific LED lights. We have found that sometimes a certain type of LED lights are only on Amazon for a short time. Because of this we added the general link as well so you can see the best options for you. Just make sure you get waterproof strips. We hot glue gun in under the soffit first and then attach these clips.
I love these lights so much! You can change the colors, or have them rotate through colors. Halloween you can turn on Orange, Valentines day you can turn on red, St Patricks day you can do green and on and on!
#8 – Wrap all of your Christmas presents.
It's the night before Christmas, when all through the house. Not a creature was stirring EXCEPT MOM AND DAD frantically trying to wrap the last bunch of presents for Christmas morning! Don't do this to yourselves. Where are you going to put these gifts after they are wrapped you ask? You are creative! I'm sure there is a dark hole somewhere in your home that your children are scared to death to go. Put it there. REMEMBER to make a list of items you have wrapped so you don't forget. I like to put my child's name and then a number on the gift.
#9 – Purge and donate old toys!
This is something we do yearly before Christmas every year. My boys pick some of their toys so we can donate them. This is really hard for one of my boys, and really easy for another. It keeps your toy collection down, and teaches your children to think of others.
#10 – Plan your Meals
Are you hosting? This is huge then! Create a meal plan and write it down. If you aren't hosting, plan on what you are going to be bringing to the big meals coming up. Make sure you prepare and buy those items at the store, so when it is time to cook it you have everything you need. Another thing you could do is make a bunch of freezer meals to help you on those crazy nights during the holidays.
Thats it! 10 Things you can do to prepare now for Christmas! Good Luck! Do you have anything else we could add to this list?