We have been making this Budget Friendly Turkey Taco Soup for so many years, I meets my 3 expectations for the perfect family meal.
It's delicious!
It's cheap!
It takes 15 minutes to put together!
Any meal that meets all 3 of those expectations definitely makes it in our family cookbook. I forgot to add….it's HEALTHY too! You can replace the meat with chicken or ground beef, but I have always liked ground turkey. I always buy frozen Turkey Burgers at Costco, and then just thaw them out as needed,  break them up in a skillet for my ground turkey. It's still raw ground turkey, but it takes less time to thaw and it's easier to add just what I need. The great thing about this recipe is that you just dump everything in your crock pot, turn it on low and walk away! This recipe feeds my family of 6 for 2 nights and costs me $12 to make! It's also perfect for Halloween before all the Trick-or Treating!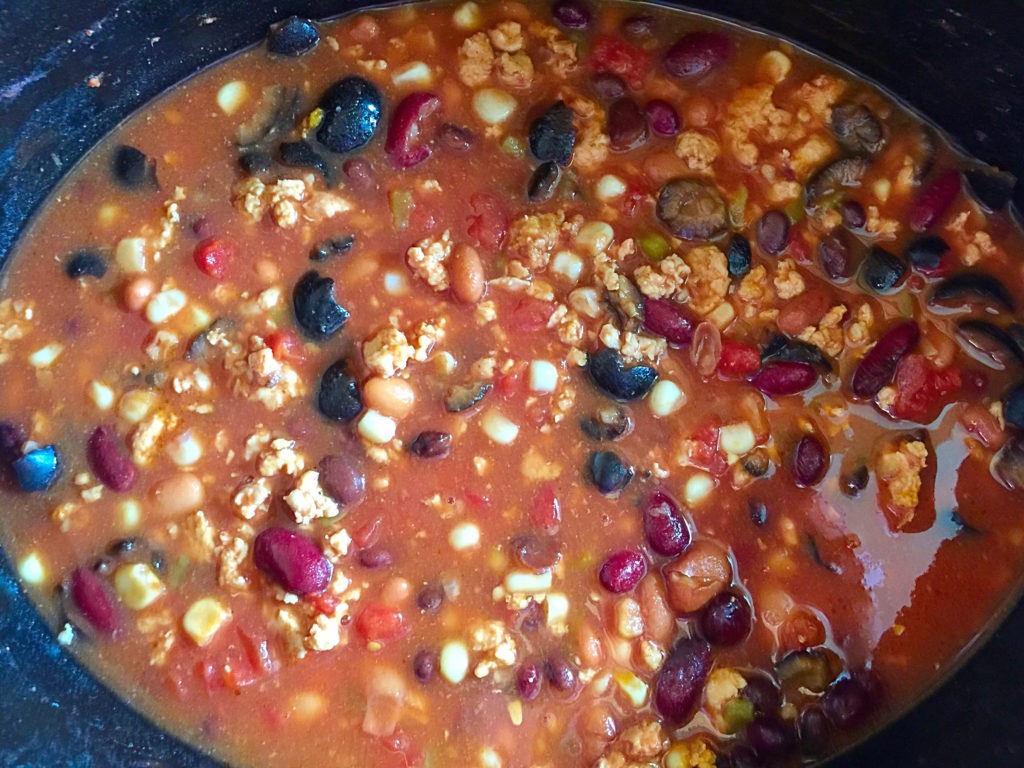 Budget Friendly Turkey Taco soup
Author:
Doublethebatch.com
Prep time:
Cook time:
Total time:
Ingredients
1 lb. Ground Turkey
1 Package Taco Seasoning
1 can Black Beans
1 can Pinto Beans
1 can Kidney Beans
1 can Chili Beans
1 can diced Green Chilies
1 small can Tomato Sauce
1 can Sweet Corn (frozen tastes even better!)
1 can Olives, sliced
8 oz shredded cheese
16 oz. Sour cream
Shredded lettuce
Salsa
Tortilla chips
Instructions
Cook Ground Turkey on stove. Add ground turkey and all the other ingredients to crock pot (except cheese, sour cream, lettuce, tortilla chips and salsa) Stir well, cook on low for 3-4 hours. Serve topped with last 5 ingredients and enjoy!!