This is a sponsored post written by me on behalf of Balmex for IZEA. All opinions are 100% mine.
My baby has all kinds of personality. She is as smiley as can be for the most part, but when she wants my attention she isn't shy about getting it. I put her in her saucer the other day so I could make dinner and what started out as cute, happy, babbling noises quickly escalated into loud, angry, red-in-the-face, screeches! I'm pretty sure if she could talk, the screeches would have translated into her chewing me out. Something like–"Listen, lady! I don't care if you have dinner to make! I need you to hold me NOW!" Of course, when I pick her up, she is instantly all smiles again.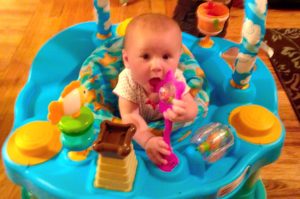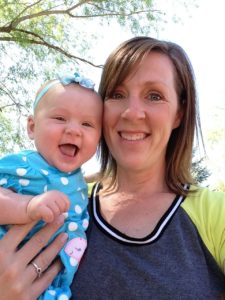 Naturally, I try to keep her as comfortable as possible, as I don't really like to be chewed out by my 7-month-old. (-: And we all know that there is nothing more uncomfortable than a diaper rash. I have two kids in diapers right now and it seems like I am constantly trying to fight diaper rash. If one doesn't have it, the other does. I try to be vigilant, but it seems like the dirty diapers that do the most damage are the ones that are nearly odorless- a cruel trick if you ask me.
I'm very picky about diaper rash cream. This stems from my first experience with a diaper rash when my oldest daughter was a baby. I had been given some cream at a baby shower and used it on my daughter's rashy bottom. She screamed as if the cream was more painful than the rash itself. It brought me to tears seeing her hurt like that. So, I have been very careful since then with the rash cream I use.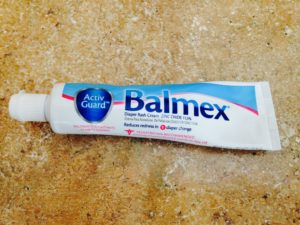 I recently had the opportunity to try the doctor recommended Balmex with ActivGuard. It promises to reduce redness in 1 diaper change, so I decided to put it to the test. I used it on both of my children who had mild to moderate rashes. By the next diaper change I noticed a definite reduction in redness and by the next day they were both rash free!
The ActivGuard neutralizes irritants in dirty diapers and the cream has Vitamins B5 and E to sooth your baby's tender bottom. The cream goes on easily and forms a protective barrier to seal out wetness so their bottom has a chance to heal. It wipes off easily as well, unlike some of the others I've tried.
Bottom line (no pun intended 😉 )– it works. I would recommend Balmex Diaper Rash Cream with ActivGuard to any mother trying to fight diaper rash. If you are ready to End the Red, grab a tube of Balmex by clicking this link to get $1 off with this Balmex Diaper Rash Cream Special Offer!