A few years ago in a town close to where we live, a man in his 20s approached two 8-year-old boys walking along the street. He was in his truck and told the boys that his parents told him to pick them up. Without hesitation, the boys asked the man, "What's the password?" When the man didn't know the answer, the boys ran as fast as they could to a trusted adult.
When I read that article in the news, I thought, "Oh crap! Do we have a password for our kids?" The answer was no. But now that the school year is in full swing, it's never too late to keep your kids safe. Even if you think you live in a very safe neighborhood, it's better to be safe than sorry.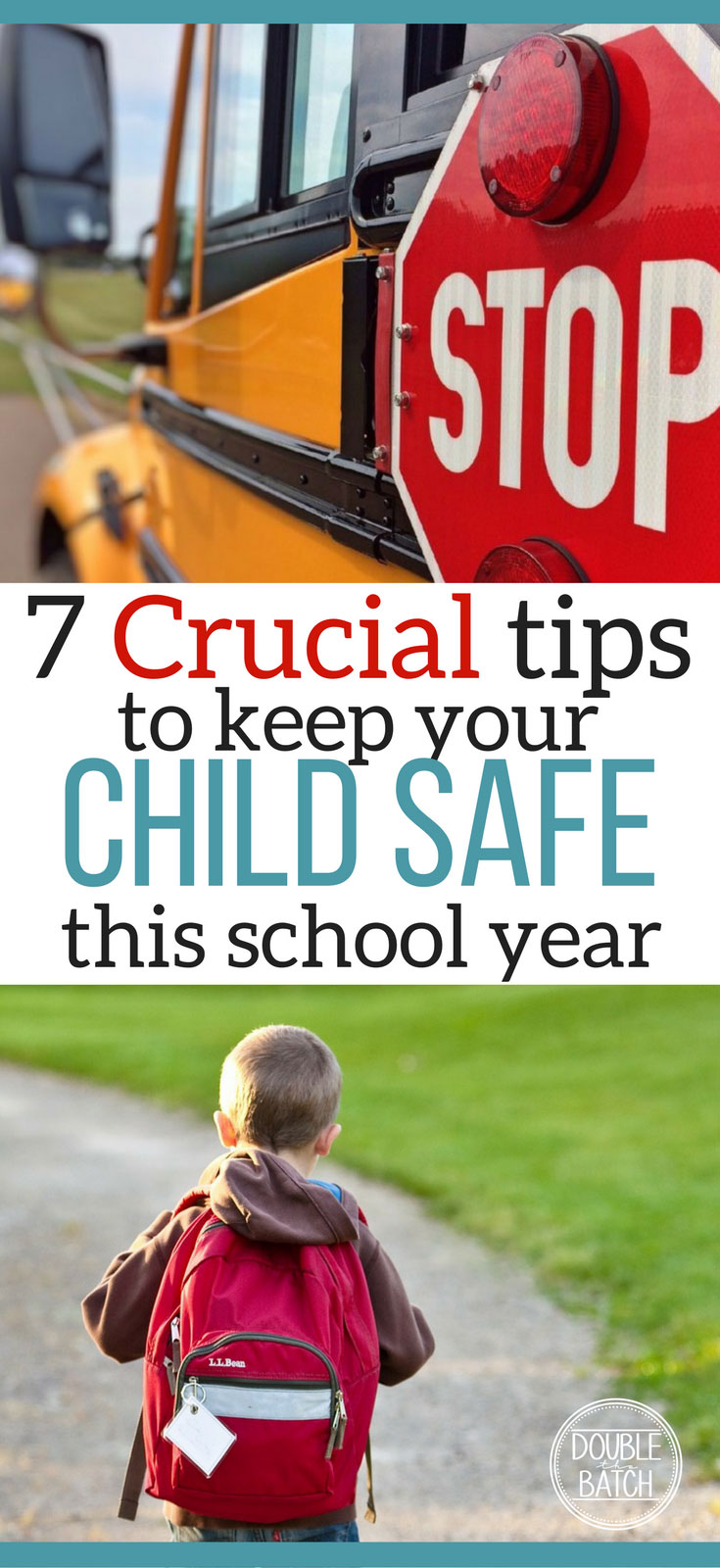 Listed below seven tips and applicable websites that will help your kids stay safe and happy all year long.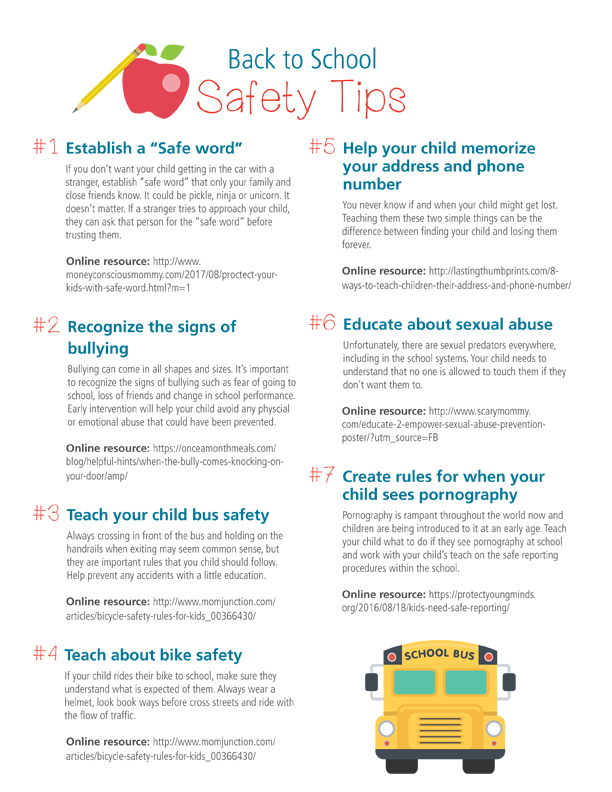 #1 Safe Word
Stranger danger is a real thing. Even in the most unsuspecting of neighborhoods, a child needs to understand the rules. They should never get in the car or leave school with anyone who does not know the "Safe Word." Check out this website for more information.
https://www.moneyconsciousmommy.com/2017/08/proctect-your-kids-with-safe-word.html?m=1
#2 Bullying
The best way to approach bullying is to stop it before it even starts. That way your child can go to school without fear of physical and emotional harm. Check out this blog for helpful tips on recognizing signs of bullying and how to deal with it.
https://onceamonthmeals.com/blog/helpful-hints/when-the-bully-comes-knocking-on-your-door/amp/
#3 Bus safety
Nearly one-fourth of school bus-related accidents occur when children are boarding or leaving school buses according to nbcnews.com. Many of these accidents can be prevented with a little bit of education. Check out this website for eight school bus safety tips for kids.
https://koriathome.com/school-bus-safety-tips/
#4 Bike safety
Chances are, your child probably doesn't think they need to learn about bike safety while riding to school. But in reality, even adults need a reminder now and then. The link below provides seven important bicycle safety rules for kids.
https://www.momjunction.com/articles/bicycle-safety-rules-for-kids_00366430/
#5 Address and phone number

If your child got lost at the store, would he or she be able to remember their address or phone number? Even toddlers can begin learning these vital pieces of information. Check out this website below for eight ways to teach children their address and phone number.
https://lastingthumbprints.com/8-ways-to-teach-children-their-address-and-phone-number/
#6 Sexual abuse
Sexual abuse is a parent's worst nightmare. Which is all the more reason to take the necessary steps to ensure that it doesn't happen, especially when your child is away at school. Educate yourself right now by clikcing the website below.
https://www.scarymommy.com/educate-2-empower-sexual-abuse-prevention-poster/?utm_source=FB
#7 Porn at school
More than a year ago, Utah became the first state in the country to declare pornography a public health crisis, and for good reason. Our children are becoming exposed to pornography at an early age. We need to do all we can to help our children understand what to do if they see pornography while at school. Check out this website below for more information.
https://protectyoungminds.org/2016/08/18/kids-need-safe-reporting/
Following these simple tips can help your child stay safe while at school. And you can have the peace of mind knowing your little ones are prepared for whatever might come their way. Do you have any other school safety tips? Leave them in the comments below.
Free printable: Back to school safety tips