It is finally starting to warm up here in Utah and my little one literally brings me his shoes what feels like every hour of the day to try to hint to me that he's dying to go outside. We barely survived the winter months cooped up inside, playing with the same ol' toys and watching the same Curious George Monkey Christmas movie. Yes… a Christmas movie. It began before Halloween and continued on after New Years. Over and over. The songs are actually still playing through my head. There's gotta be another poor mother out there who understands this. Anyway, Once our little man saw that the snow was melting, he has been non-stop standing at our front door, just waiting for me to take him out. It's endearing really. I can't help how cute he is he with his little palms up against the window, eyes all wide, trying to figure out some way he can get himself out there.
We're all pretty excited about the idea of spring finally arriving. Winter was long and rough on us. With working overtime, and being in school, my husband and I felt like we were in over our heads at times and longing for some together time as a family.
So this evening, even with our busy schedules we decided that we would "mix up a moment" and celebrate the warmer weather and the promise of Spring by making a cake all together for family night. As you well know from previous posts, I'm all about keeping things simple and easy. I'm no chef and certainly don't have time for a billion ingredients, which is why I almost always stock up on a few Pillsbury items when I'm in Wal-mart so that I have them on hand when I need something easy.
When I was shopping at Wal-mart this time, I was excited to see that my Ibotta app had a special offer for .75 cent rebate on any Pillsbury™ Frosting, Cookie Mix, Cake Mix, or Brownie Mix variety. (Buy any THREE, 7 oz. pack or larger.) So I snagged up a Pillsbury™ Spring Funfetti® Cake Mix, Pillsbury™ Spring Funfetti® Vanilla Flavored Frosting, and of course a few of our favorite Easter Treats (cadbury eggs and bunny peeps) for some fun decorations. The other ingredients that the cake mix requires (egg, oil, and water) we already had. Easy Shmeasy.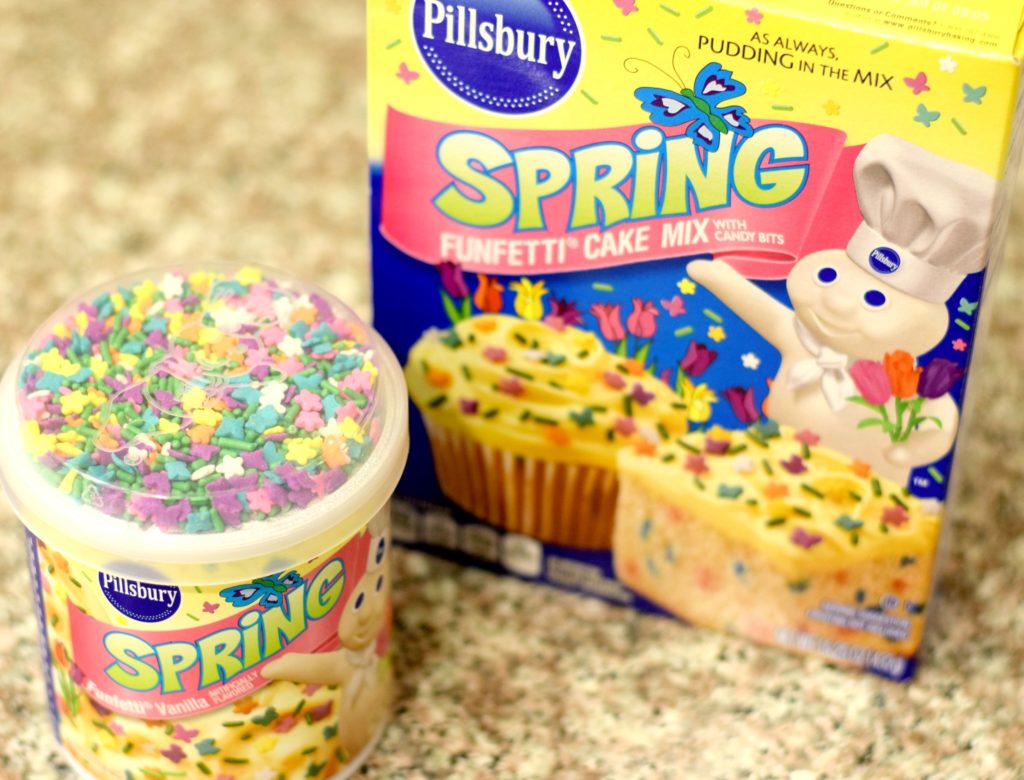 I threw the cakes in the oven while dad was at work so they would be cooled and ready to decorate the moment he walked in. I also invited my little sister to come down and decorate with us and between the four of us we made a easy 3 tiered Easter/Spring cake. I think baking in the kitchen is a perfect setting to spend time together as a family. We had a blast making this cake for our family night (our little man, who hardly ever eats sugary things, especially had a blast licking out the frosting container and devouring a Bunny Peep). and I think our cake turned out pretty cute!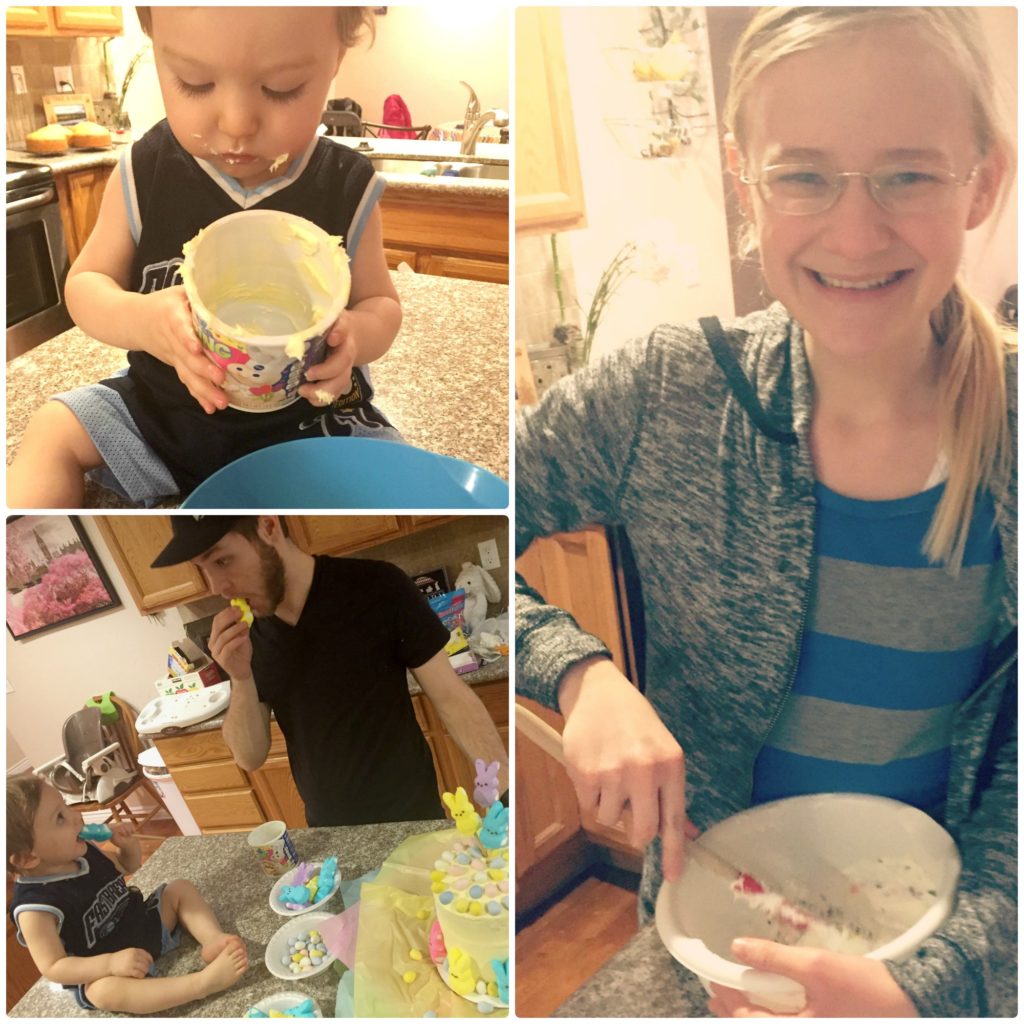 Good thing I bought a couple extra mixes so we can have them on hand next time we feel like an easy treat. We ended up using 2 of the cake mixes because we weren't sure how many tiers we wanted. We also ended up having an extra layer of cake that we weren't going to use so my little sister took that as her own for decorating. It turned out so cute and I think next time, instead of doing one tall tiered cake, we will each decorate a mini cake of our own and hold a fun contest of whose looks the most festive. Be sure to come back and check out the super cute cupcakes Kristina is making for Easter with her Pillsbury cake mix!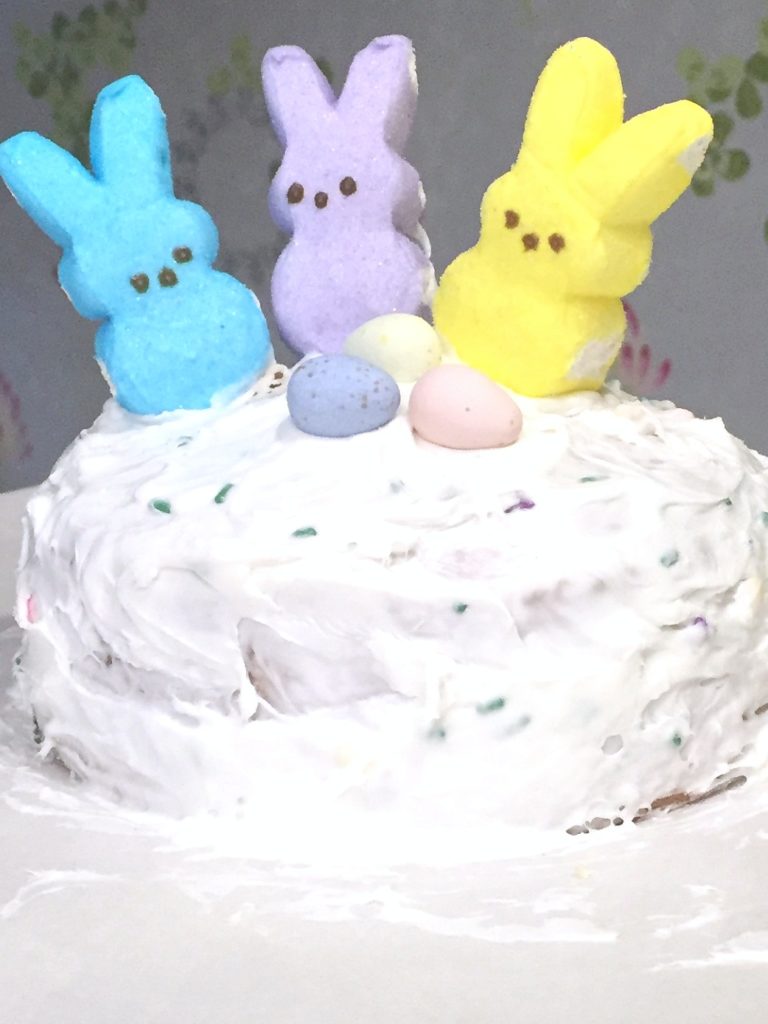 How will you #MixUpAMoment with Pillsbury™ Cake Mixes this Spring? Check out their Pinterest page for some fun ideas! Here's what we did: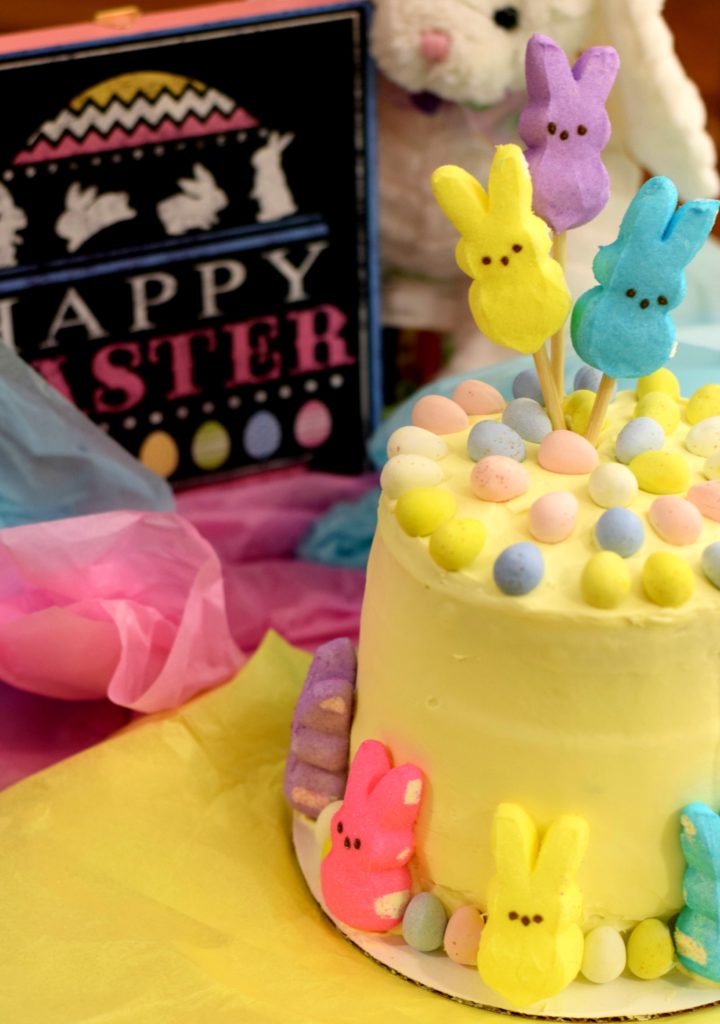 3 Ingredient Easter Cake
2016-03-01 14:50:21
Ingredients
2 Pillsbury™ Spring Funfetti® Cake Mix
-(Mix requires 1 cup water, ½ cup oil, and 3 eggs)
2 Pillsbury™ Spring Funfetti® Vanilla Flavored Frosting
Your Favorite Easter Candy
Instructions
Follow directions for mixing on the back of your cake mix. If you want your cake to be tiered like mine (I used 6 inch circle pans so I will base my directions off of that), spray your pans thoroughly, Pour 2 1/4 cups of batter into 3 pans and cook for 35-40 minutes (watch for tops to be golden brown and a toothpick inserted to come out clean), allow the cakes to cool for 10 minutes and then gently take your cakes out of their pans and allow to cool.
While your cakes are cooling, take 1 of your Pillsbury Vanilla Flavored frostings and mix it together with half of the included sprinkles (you can use all of them but I chose to only use half. You won't put sprinkles in the frosting you use to coat the cake unless you want that extra flair).
Once cakes are cooled, cut off the tops to make it an even straight line for stacking. Scoop 1/3 of your frosting onto the first layer, spread evenly and top with your next cake. Repeat until your third cake layer. I like to place my top cake layer on with it's bottom facing up so that it's a perfectly even top frost.
Place the 3 tiered cake in your freezer for about 30 minutes before frosting the outside so that it's easier to frost and won't crumble and fall apart. If you would like more than one thin layer of frosting on the outside, you can place cake in freezer again for an additional 10 minutes before applying another layer. Finish with frosting your top later and smooth it all out. (I use a damp paper towel or wet flat cake spatula for this.)
Top with your Easter/Spring candy
Eat and ENJOY!
Uplifting Mayhem https://www.upliftingmayhem.com/
This is a sponsored conversation written by me on behalf of The J.M. Smucker Company. The opinions and text are all mine.