I've got good news and I've got bad news. The good news is … it's summer. The bad news is … it's summer. If you've ever felt this way, you're not alone. People always tell me that kids grow up so fast. So, sometimes I wonder why the 92 days of summer vacation seem to go by so slow.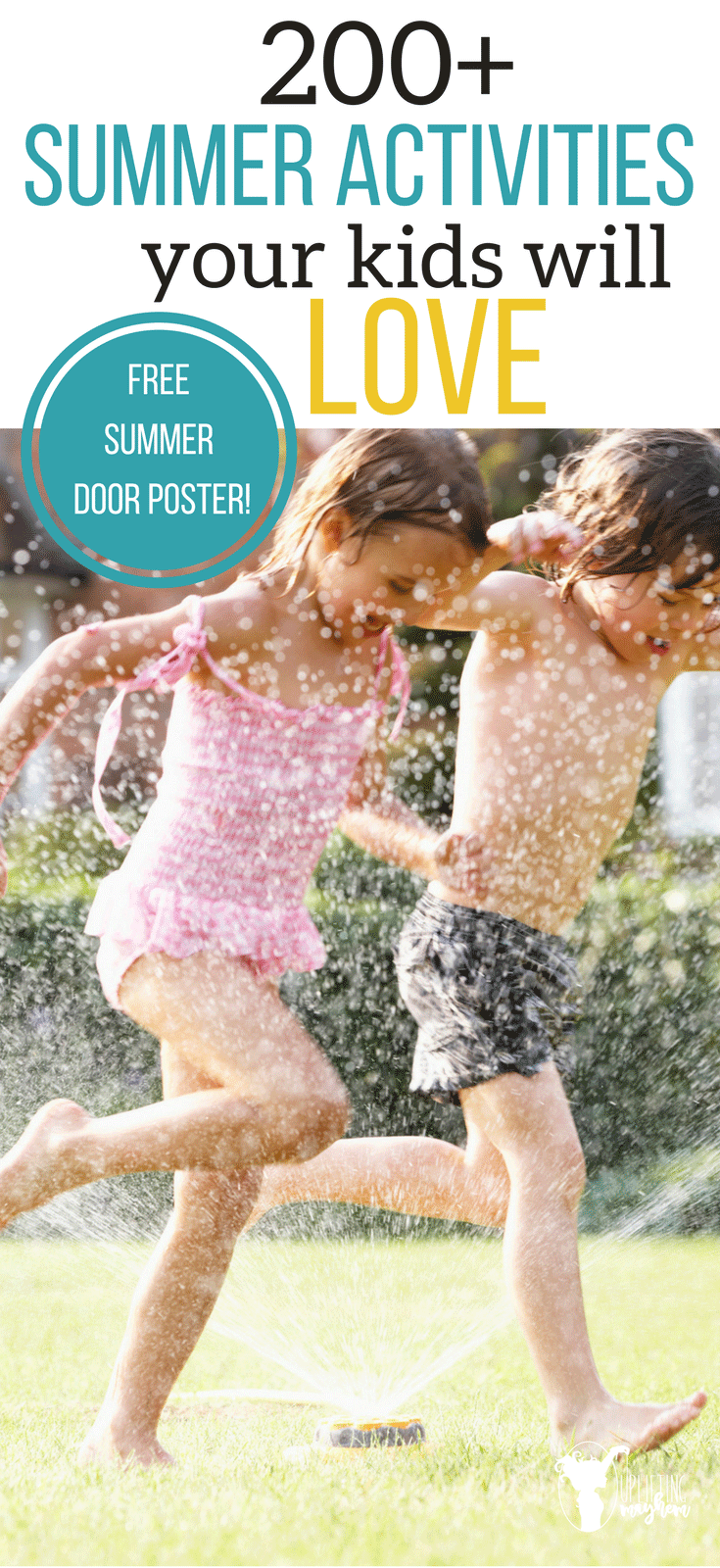 But this summer is going to be different. I want to make the most of the precious time I have with my kids while they still think it's cool to play with mom. Listed below are three easy ways to boost your summer vacation into full gear and keep you're kids entertained and happy the entire time.
#1 Summertime Door Poster
I was trying to think of a simple way for my kids to know what's expected of them each day. That way they don't wake up each morning and want to watch TV all day long. So, I designed a simple summertime door poster (23″ x 46″) to hang up on the door in our kitchen. It's in a central location for everyone to see everyday.
Here's what the Summer Door Poster includes:
Daily chore list

Daily schedule

Three-month calendar (so my kids can see upcoming vacations, activities, etc.)

200+ fun summer ideas (for when my kids get bored)

Accountability boxes (so my kids can mark a box off when they finish their chores or should be rewarded for good behavior and they get a family pizza party at the end of the summer if they mark off all the boxes)

See picture below for details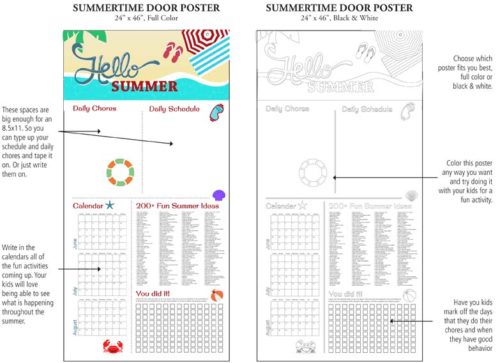 The beauty of this summertime door poster is that it's easy and cheap to make. I got mine printed at Alphagraphics. It only cost $4.86 to print it in black and white and then color it myself. But if you don't have the time or patience to color it yourself, you can print it in full color for about $23. A free printable PDF of each version is at the end of this blog post for your convenience.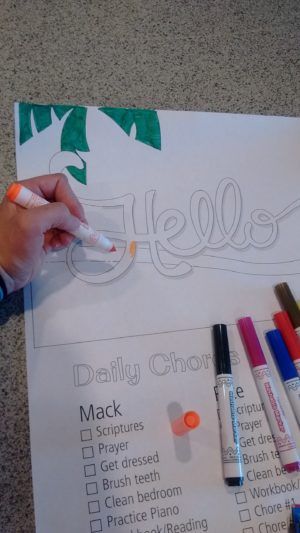 #2 Read with them everyday
The last thing you want is for your kids to forget everything they learned throughout the school year. But it can happen if you don't keep their minds active everyday by reading, writing and other educational activities. I bought the Second Grade Big Workbook for my soon-t0-be second grader and the Big Kindergarten Workbook for my soon-to-be kindergartener. Just working on one page a day with each of them will help them tremendously.
#3 Give your kids incentives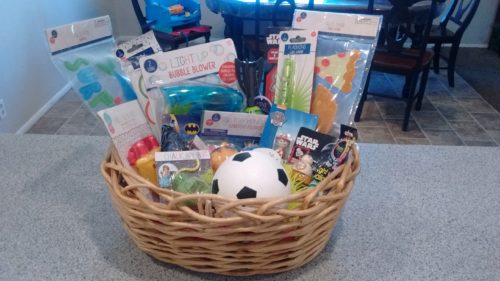 My seven-year-old is always asking if he can earn some money. So, I designed these "Summertime Sand Dollars" that can be exchanged for real money, screen time or a prize out of the prize bin. That way it is easier for my toddlers to participate as well, since money is a concept they don't understand quite yet. The best part is that I can also take them away for bad behavior, so it works both ways.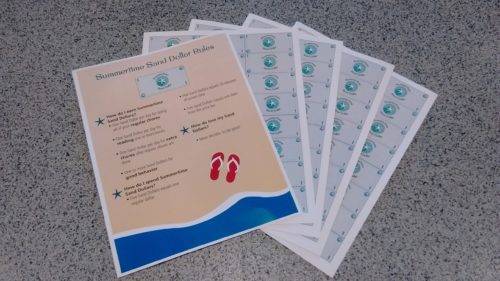 I printed the "Summertime Sand Dollar Rules" and four pages of the actual "Summertime Sand Dollars" (24 to a page) on cardstock at Alphagraphics for $2.85. Then I cut out the sand dollar with my paper cutter. It only took about 10 minutes and voila, easy as pie.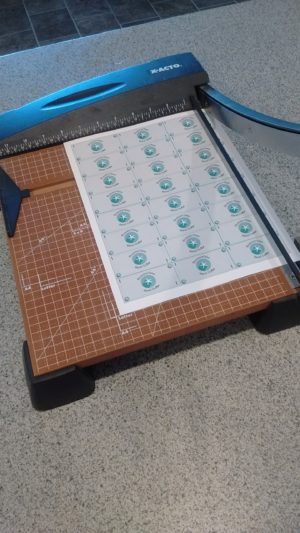 So there you have it. I hope this summertime poster and sand dollars work for you guys. Leave a comment and let me know how you like it!
#1 Awesomeness- FREE PRINTABLE – Summertime Door Poster for Kids – Full color
#2 Awesomeness- FREE PRINTABLE – Summertime Door Poster for Kids – Black and White
#3 Awesomeness- FREE PRINTABLE – Summertime Sand Dollars