What is the definition of a good toy? What toys for boys will last??? Is your house full of broken toys or full of toys that aren't used or ever played with? It amazes me every time we clean our playroom, how much garbage and broken toys we throw out. My husband and I are not a fan of getting a lot of toys to solve our boys boredom! We like the, "here play with this box and see what you can make with it" toy. Too many toys also means a bigger mess.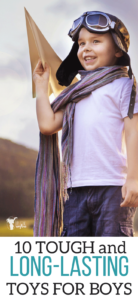 To me the definition to a good toy is this, "If your kid is still playing with it a year later, then it is a good toy!" The toys that I pat myself on the back for, are the ones that stand the test of 5 boys! Christmas is coming up, and I am always thinking in advance of a "good toy" to give my boys. There are years I fail miserably, while other years I triumph over the broken/unused toy epidemic!! I decided to share with you all of our toys that have withstood 5 active boys.
YOUR LIST OF TOYS FOR BOYS!!
The name says it all!! Seriously people!! Do you want to take a guess how many of these bad boys we have??? We have 5!! These trucks are tough, and last forever! We take them camping with us everywhere. They were great for little chores outside. I tell my boys to go grab a tonka truck full of garbage! They are big trucks too! My older boys love to find a big hill, sit in the back of the truck and cruise down the hill! It is hilarious!! You can find it here on AMAZON.
This toy doesn't need a lot of explanation! THESE LAST FOREVER!!! We have some from when my husband was a little boy! I love this Classic Brick Box, because it has a variety of everything. Sometimes when you buy kits, it contains so many small pieces you can't build a lot of other things. Out of all of the toys we have, legos are the thing my kids play with the most!
If you are looking for a great quality toy! This is it! We have 3 Imaginext castles, or buildings and my boys play with them everyday with their Lego villages. W have this one and is a great price. You can get bigger ones for more. To me they are worth it because they are very well made toys. Five boys and I haven't had one break yet!
These things always find themselves back from the dead! When I think I have seen the last of them, my boys pull them out and battle! This set is a great toy to give two siblings! It makes it a combined gift, then you eliminate the "ITS MINE! I got it for Christmas!!" problem. You can buy more beyblades separately like this one. The only problem we have had with this toys is that you can take them apart and customize them with other blades. This creates the problem of lost pieces. I recommend getting a container like this one to keep the blades in as a whole or in pieces or create other blades. My boys love them!
I would say 80% of our nerf guns still work! We have had a couple cheaper ones bite the dust, but you usually lose 100's of darts before your gun breaks! Stock up on darts here
GeoTrax are made to last forever! My boys play with these trax a lot and I haven't had one thing break on it! We add to it which is fun to watch the tracks they can build. This is a toy you can buy used and it will still work great! If you are really interested in this toy, I would search out your local classifieds. People sell these because they are still in such great condition. I have gotten many of my sets from other people! Stock up on batteries though. That is the only downside. Sometimes I just say no more batteries, so they push them with there hands.
Hot wheels are a great stocking stuffer! They last forever!
Here are some more ideas that are for outside with wheels! If my boys don't have one, a neighbor does and they ride all of these all of the time!
Oh Man! My kids love these things and are a great way to expend extra energy!! They just bounce everywhere!!
What little boy doesn't love magic! I haven't ever been a fan of other magic sets because they usually break after the first day. This one however is solid wood, making it durable and long-lasting! Perfect!
My 10 year old still plays with these bad boys! They are so fun. This is one set of toys that I keep in a bucket and only pull out on occasion. I do not like blocks all over my house, so it is one set that I have them clean up before doing anything else.
There you go! I hope this gives you a good list of toys that will last! I am always looking for great toys, so if you have anymore to add feel free to comment!