Sometimes you just want to snuggle up with your kids on the couch and watch a show, but there is so little on TV these days that is family friendly enough that you can feel comfortable watching together. I don't even really like the teen shows on the Disney Channel because I start hearing the same attitude of the teens on the show spewing out of my children's mouths and I don't love that. And I certainly can't stomach actually watching those shows myself when I have a million things I need to get done running through my mind. So, I've been trying to find shows I could truly enjoy watching with my kids to pull me out of my to-do list and into a fun bonding experience with them.
And, guess what? I found some gems that I honestly enjoy as much as my kids do, so I thought I'd share in case you may not be aware that these shows exist. It takes a great deal of talent to create programming that is squeaky clean, clever and that appeals to both children and adults, so I am very grateful to the writers, producers, and actors who have given me something family friendly to watch with my children besides a Disney movie or AFV. (Let's face it- even wardrobe malfunctions, crazy cats, and people falling down unexpectedly can get old after a while – sorry AFV!)
We don't have cable at our house, so we watch everything online. Some of my recommendations aren't full length shows, but Youtube channels with a series of videos you can watch as a family. I would say most of these shows would appeal to children 6 and up as well as adults. Some of these can be found on cable TV, others are only online, but here is my list of fantastic family friendly shows/videos in no particular order: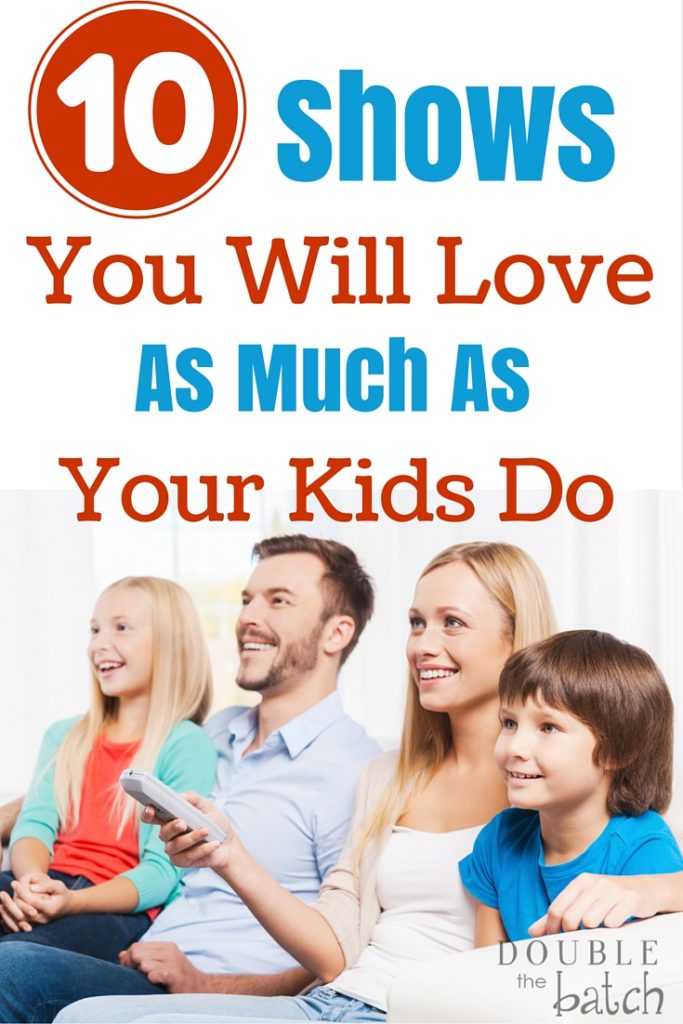 1- Treehouse Masters. This is a favorite from Animal Planet. Expert treehouse builder Pete Nelson and his crew build the treehouses of people's dreams from start to finish. Warning: your kid will begin dreaming up their own treehouse and will beg you to call Pete and make it a reality. But, it is really cool to see these treehouses come together so it's worth the risk. 😉
2- Studio C – Think Saturday Night Live with absolutely no questionable material whatsoever. This group out of BYU is hilarious and their skits will have the whole family laughing together. Your kids will be quoting this show on a daily basis. My 9-year-old daughter actually chose Studio C as the theme for her birthday and it was a blast! You should definitely check it out. Here are a few I suggest you start with on YouTube. But it is on the BYU channel if you can find it in your cable line up.
Parent Favorites:
Kid Favorites:
Insane Drivers Ed Teacher Scares Students | Studio C
3- Kid History from Bored Shorts TV on Youtube. A group of friends who record their kids telling stories that they have told them, then the adults act them out lip syncing to the kids voices. You just have to watch to understand. This is my absolute favorite!
Kid History: "Healthy Food" Episode 6 (True Stories)
4- Brian Regan. If you have not yet experienced the brilliant, clean, slightly quirky comedy of Brian Regan- you are missing out! My children quote his stand up all the time, and he has our whole family in tears from laughing so hard when we watch him together. He is a rare family friendly find in the comedy industry. Check him out!
Brian Regan-I Walked On The Moon (Full)
5- North America on the Discovery Channel. Fascinating footage of the animals and landscape of North America that will have you and your kids captivated. Entertaining and educational is always a great combination.
6- Unwrapped from the Food Network and the spin off Unwrapped 2.0 that is currently on the Cooking Channel. This show explores how all your favorite food, candy, and snacks are made. Very interesting and fun for kids as well as adults.
7- Mythbusters on Discovery Channel. An oldie, but a goodie that returns in 2016. Watching these fellas prove or bust myths is fun for the whole family.
8- The Piano Guys. Putting the cool back in orchestra, one video at a time. The Piano Guys entertain with their fantastic arrangements and creative performances. They transport their piano and cello to remote locations that bring their songs to life. We can't get enough of these guys at our house.
One Direction - What Makes You Beautiful (5 Piano Guys, 1 piano) - The Piano Guys
Cello Wars (Star Wars Parody) Lightsaber Duel - The Piano Guys
9- Planet Earth from BBC. This series has been around since 2006, but most kids probably haven't seen it. Amazing film work captures the wonders of this planet. A great show for the whole family. You can buy the full series here.
10- Once Upon a Time on ABC. I am only now discovering this modern-day, non-animated, fairy tale character based show by the makers of Lost that is about to premiere its 5th season. I will get back to you with my opinion on it after I've seen more of it, but it looks promising!
What have I missed? Tell me all your favorite family friendly shows to watch as a family!