Disneyland with a baby? Is that something that is possible! I am here to tell you that Disneyland with a baby is possible! I never realized just how much thought and time goes into packing for a baby until, well, I had one! Ha! I'm beginning to learn the art of planning an extra 20 minutes anytime we need to be somewhere, and yet I STILL almost always forget something in the diaper bag. You can imagine how frazzled I feel about our upcoming week long trip to Disneyland! So after much research, I've compiled a list of the best tips for visiting Disneyland with a baby! Here they are: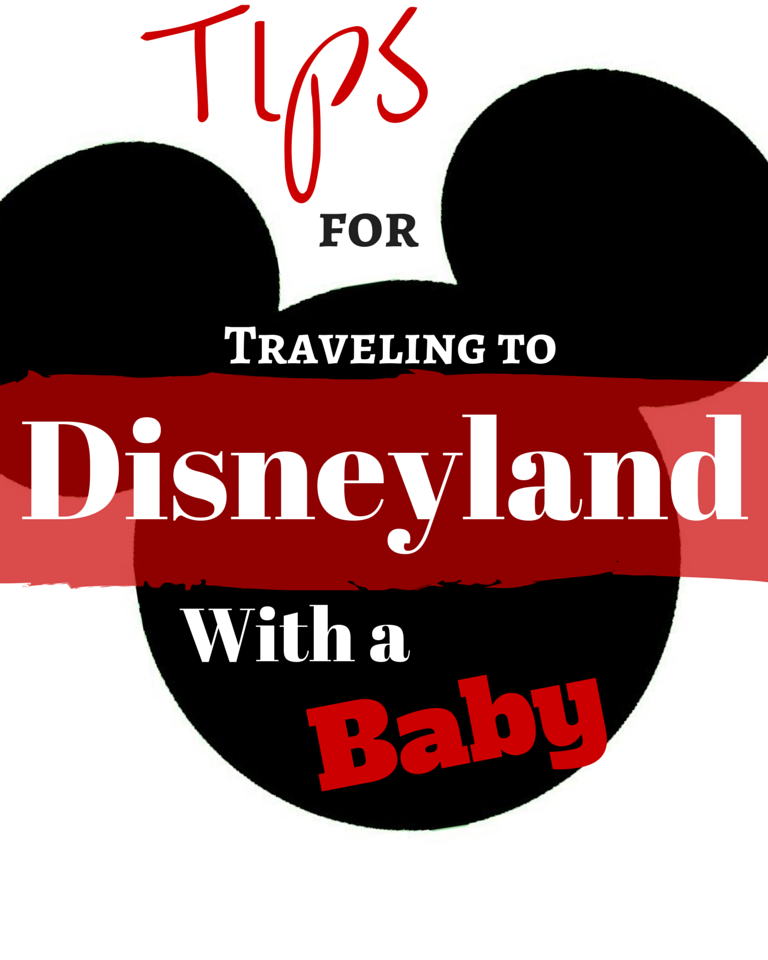 #1 Bring both warm and cool clothes.
Even if the forecast says it will be sunny, it could be cooler in the morning and/or the hotel you are staying in. For us, the mornings and evenings at the park were pretty chilly so I was glad to have long pants and a jacket in the diaper bag for my little one.
#2 Pick out and put together outfits BEFORE you go and put them in individual bags.
By doing this you can save time later by not having to search through everything you've thrown together into one bag.
#3 Pack some sort of nightlight.
So that you don't have to turn on any lights in the middle of the night if your baby needs you. Doesn't have to be anything fancy. Here's a cheap one on Amazon. I've also read that its a good idea to bring something "homey" that has a familiar scent for you baby to sleep with (crib sheets, blankey, etc…)
#4 Changing pad.
I have this one from Target and love it because I can take it anywhere with me to lay out on changing tables or anywhere else my baby might need a change.
#5 Pack ANYTHING that can leak in individual baggies and then put all the little baggies in one big bag.
I do this every time I travel. I hate things leaking onto other things. . . I mean, who wants diaper rash cream on their toothbrush??
#6 Things to protect baby against the heat.
A good baby hat to cover their face from the sun when they aren't in their stroller. Also, I love Aveeno's Baby Natural Protection Stick for sunscreen because its easy to apply and it's made with natural ingredients for sensitive skin. Another good idea, might be to get a small fan that attaches to your babies stroller to help keep them cool. I was so glad to have one of these fans during the heat of the afternoon to strap on to my stroller and help keep my baby cool.
#7 Something to cover/shade stroller if it rains or if baby is napping.
Our baby took naps in his stroller throughout the day at the park so a stroller cover can be super useful. Not only will this cover help shade your baby from the heat but it will also block out the light so your baby can get a good snooze!

If your baby likes a carrier, it's a good idea to bring both a stroller AND a baby carrier because you can't bring your strollers in the lines and this way your arms won't go dead carrying them. If your baby is anything like mine, they probably won't want to be strapped in a stroller all day anyway. We enjoyed having both.
#9 New/different and exciting food and toys.
Especially for when you're traveling (in a plane or car) bring something your baby isn't already used to and can get bored of easily. You're going to want to keep them occupied, and HAPPY.
#10 BE FLEXIBLE!
I know it's not every day that you get to go to Disneyland but go with an open and unplanned mind and if you need to go home before the fireworks or big shows at the end, then go home and save that part of the magic for when they are a little older. You never know how your baby is going to handle being out all day so try to just go with the flow of your baby's needs. By doing this, our vacation was way less stressful and really enjoyable. This goes for the car ride (if you're driving) too! Our drive was 10 hours so we split it between two days, planned it around our babies nap time, and then took as many stops as we needed to even if it put us a little behind. If baby is happy and comfortable than so are you!
#11 Take Pictures!
Don't just take pictures of when they are all dolled up and cute. It's fun to remember it all: The good. The bad. AND The Ugly.
Disneyland AND California Adventure have complimentary baby care centers meant just for Mamas and their little ones. If I wasn't super close to them I would find a secluded spot somewhere but when I was close, I definitely loved being able to sit in a rocking chair or use a changing table. Here are a few of the things it offers:
Nursing room with chairs
Changing room with tables
Feeding area with highchairs
Kitchen with microwave and sink
Main room with television, table and chairs
On-site shop offering formula, baby food, juice, diapers, wipes, sunscreen, over-the-counter medications and pacifiers for purchase
You can visit the Disneyland site, to find out where those exact centers are. The one in California Adventure that I used a lot was right around the corner from Ghirardelli.
ALSO, I would highly advise booking your whole trip through Getaway Today, because they can almost always get you the very best deals on hotel AND park tickets. They have stayed at all the hotels so they know which ones are best. They price match too which is great. If you go that route, use Uplifting10 for an extra $10 off.
If you are looking for some more Disneyland Tips, here are a few of my favorites:
Disneyland Tips (From Someone Who has Been OVER 150 TIMES)!
This is also a great post with some AMAZING tips, including where the less popular/hidden family bathrooms are.
What other tips would you Mama's give to someone traveling with babies for the first time?