It is apricot season and everywhere I look there is an apricot tree full of apricots! People either love them or they don't! Most people, are more that willing, to let you come get some off of their trees! We love apricots! Some of our favorites is apricot nectar, apricot jam, apricot fruit leather.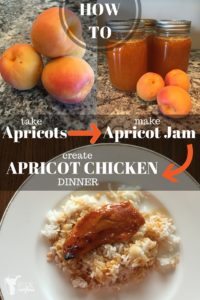 This post will show you how to take those yummy apricots, turn them into jam, and make a delicious apricot chicken for dinner. This is a fairly simple process. It is very rewarding seeing your hard work that you can enjoy all year long!
Step #1 Wash and pit your apricots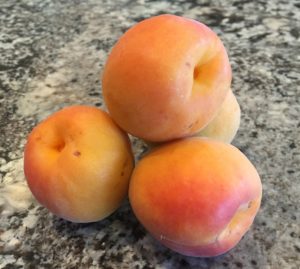 Step #2 – Finely chop 5 cups of apricots. I used a processor for this. DON'T pureed the apricots. you want some chunks in your jam.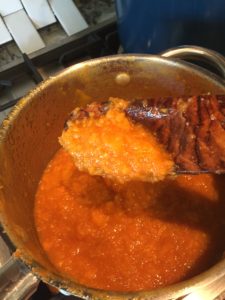 Step #3 – Put in 1 TBSP of fresh lemon juice, and 1 package of fruit pectin. I use 100% Natural MCP Premium Fruit Pectin that you can get at Walmart.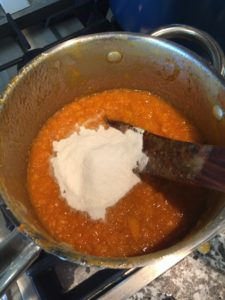 Step #4 – Stir this mixture and bring to a hard boil. A hard boil is when you are stirring and it is still boiling.
Step #5- Add 7 cups of sugar. Bring back to a boil. Once it is boiling, stir constantly for 1 minute. Your mixture will get really foamy.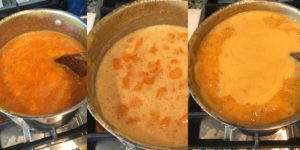 Step #6 – Read THIS POST FOR CANNING TIPS AND TRICKS. Pour mixture into clean jars. Place lids and rings on and place in your water bath to process. Processing time is 10 minutes PLUS altitude change. See picture below.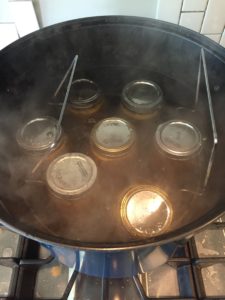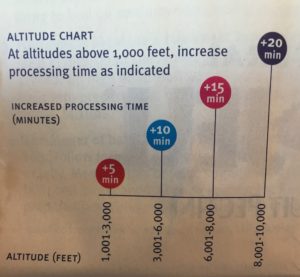 Step #7 – Place on counter and let sit for 24 hours. It may take up to 2 weeks for the jam to set completely!
NOW TO SEE THE FRUITS OF YOUR LABORS!!! Make some Apricot chicken and enjoy your hard work all year round! I found this recipe over at Shutterbean
Apricot CHICKEN
Preheat oven to 425 degrees
6 boneless/skinless chicken thighs
coarse salt and freshly ground pepper
1 jar of your homemade YUMMY apricot jam
1 tablespoon honey
1 tablespoon hot mustard
2 tablespoons soy sauce
2 cloves garlic, minced
Mix the jam, honey, mustard, soy sauce and garlic in a small pot and warm it up on your stove. I like things easy so I used frozen chicken tenders (about 12 of them). Pour the above mixture over your chicken.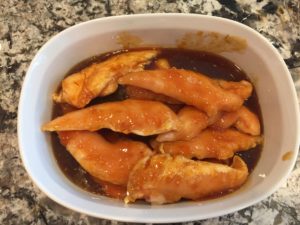 Bake the chicken at 425 degrees for 40-45 minutes or until your chicken juices run clear. Or just cut one open. When I checked mine my fork easily shredded one! Delicious! I baked mine with a lid on for the first 30 minutes or so, then I removed the lid and let it get a little crispy on the edges.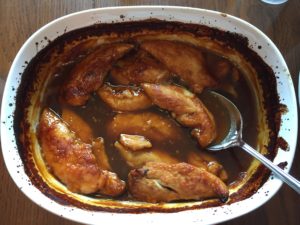 All of my boys loved this dish! It went on the the make again list! Serve over rice!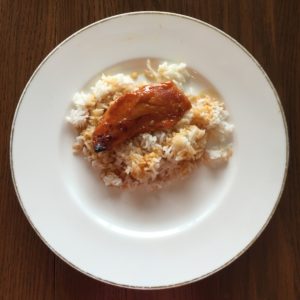 Enjoy all of your hard work! You deserve it!