Whether you want to make it with sausages, hot dogs, or meatballs, these mummies are sure to be a hit! If you love finding recipes that have few ingredients and are super easy to make, like I do, then this one is right up your alley! All it requires is your choice of meat, pizza dough, and your favorite dipping sauce and you're pretty much golden.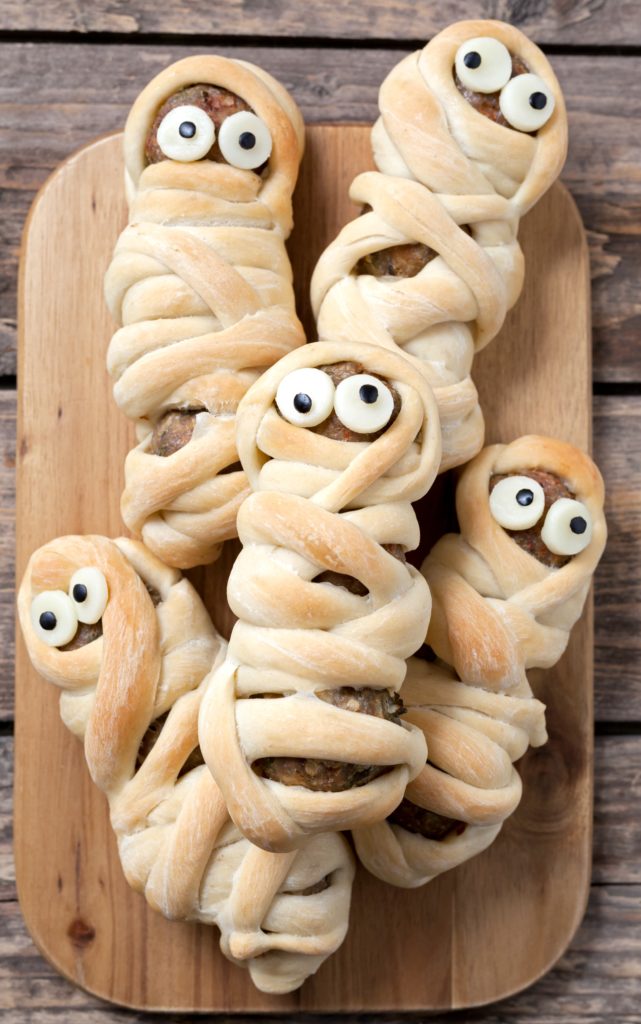 If you choose meatballs, all you need to do it strand some spaghetti sticks or bamboo skewers through 3 of them to keep them secure. After you've wrapped your dough around them and placed them on your cooking sheet, you can carefully remove the sticks.
You don't have to but I love the eyeball addition, which is super simple to make with some mozerella string cheese, olives and a straw. You just cut up your string cheese into circles, use a straw to poke through the size you want, and then cut up tiny olive pieces to make the pupils. "Glue" your eyeballs onto your mummy with a little bit of ketchup. 😉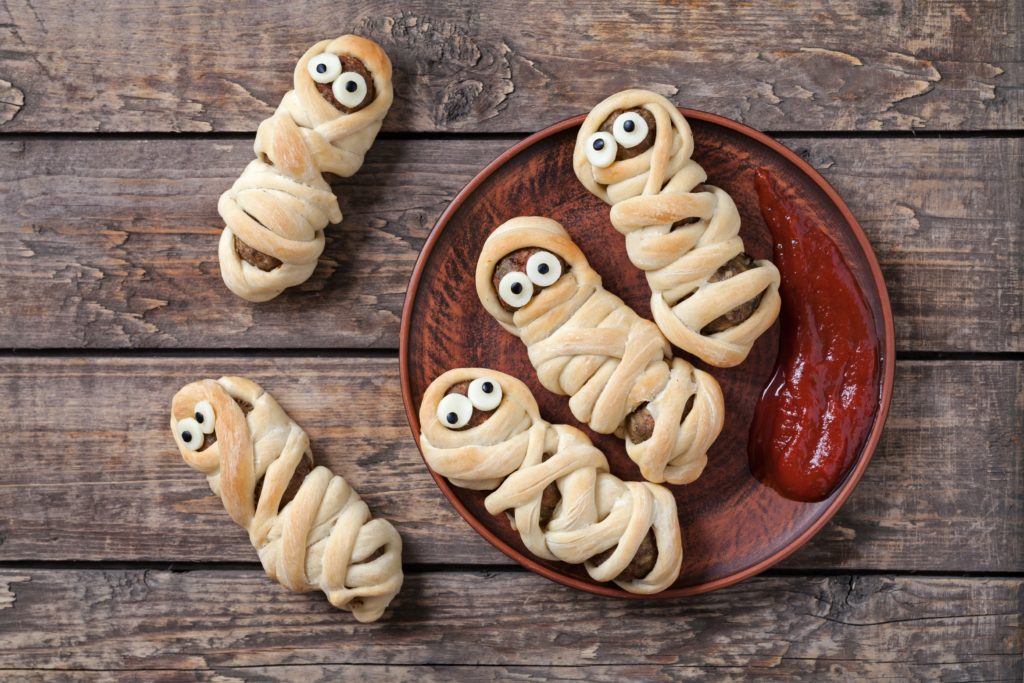 Sausage Meatball Mummies
2016-09-03 14:41:56
Ingredients
21 cooked meatballs
1 roll of refrigerated pizza crust dough
Skewers (spaghetti sticks or skewers)
Eyeballs
string cheese
olives
Instructions
Step 1: If your Meatballs are frozen, make sure they are all thawed before preparing. Carefully skewer three of them together.
Step 2: Cut your pizza dough into thin strips (about 1/4'') and wrap your meatballs by criss-crossing to your mummy liking. Make sure to leave a space at the top for the eyes though!
Step 3: Line a baking sheet with parchment paper, place your mummies on it, and carefully remove your skewers. Bake at 350 degrees for 17-22 minutes or until crust is golden brown and your meat is heated all the way through.
Step 4: Poke through your mozzarella cheese with a straw and "glue" on your eyeballs with ketchup.
Notes
*for extra flavor, spread some butter on the tops of them fresh out of the oven
*you can also just do dabs of ketchup for the eyes
*serve with warm marinara sauce or ketchup.
Uplifting Mayhem https://www.upliftingmayhem.com/