If you are researching what cruise to book, and are wondering what Majesty of the Seas Activities are available on ship, you probably aren't alone. I wondered the same thing and almost canceled our cruise because I couldn't find enough info on what would be offered.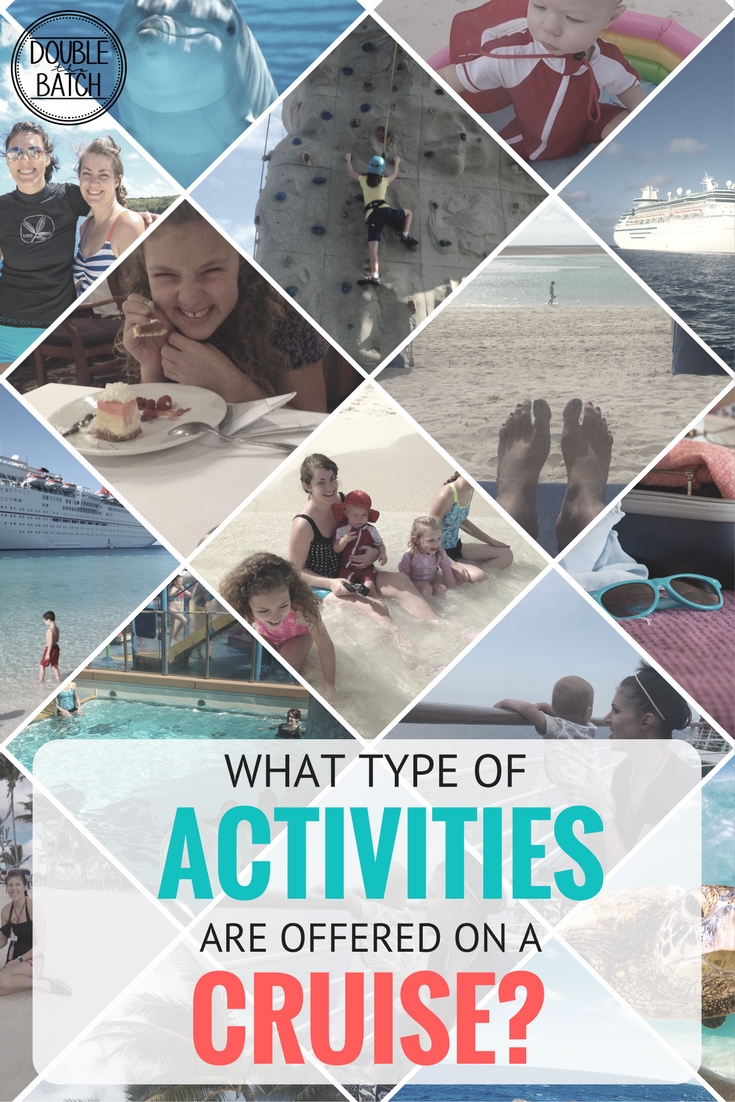 GOOD NEWS! Royal Caribbean Majesty of the Seas ended up going beyond our expectations with their daily activities, as well as what they had going on in the Adventure Ocean Kid's program. Aside from the pool, rock climbing wall, basketball court, and shows, they also provided daily activities and programs.
I was nervous at first to book the Majesty of the Seas, because after doing several Google searches, I couldn't find enough information about the activities that would be available, and was worried we would get bored at sea.
Because there wasn't much information for Majesty of the Seas activities, I made sure to take a picture of my Royal Caribbean daily Compass before I left, so that you all could have a general idea on what kind of activities are available if you book on Royal Caribbean's Majesty of the Seas ship. We didn't even get to experience HALF of what was going on, because there were so many activities being offered throughout the day.
You'll have to ignore the wrinkles on the paper and remember that we were on a family cruise 🙂
My kids (and my nieces) were overly excited about the Adventure Ocean kid's program that Royal Caribbean offers. They had SO much going on every day, and each day was different. They also gave the parents pagers so that we could be notified if our child needed us.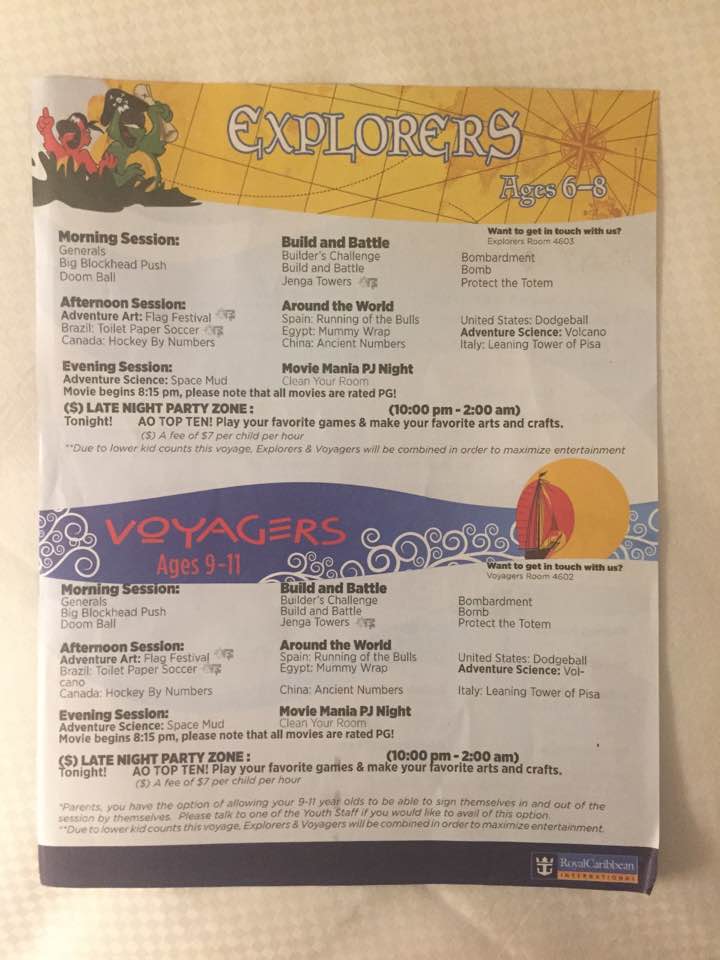 You can also sign up to have the Adventure Ocean Kid's program take your kid to lunch in case you want to enjoy an adult dining experience, which is a really neat option! Now that we've covered Majesty of the Seas activities for kids, here is an example of other Majesty of the Seas Activities that were going on:
Majesty of the Seas Activities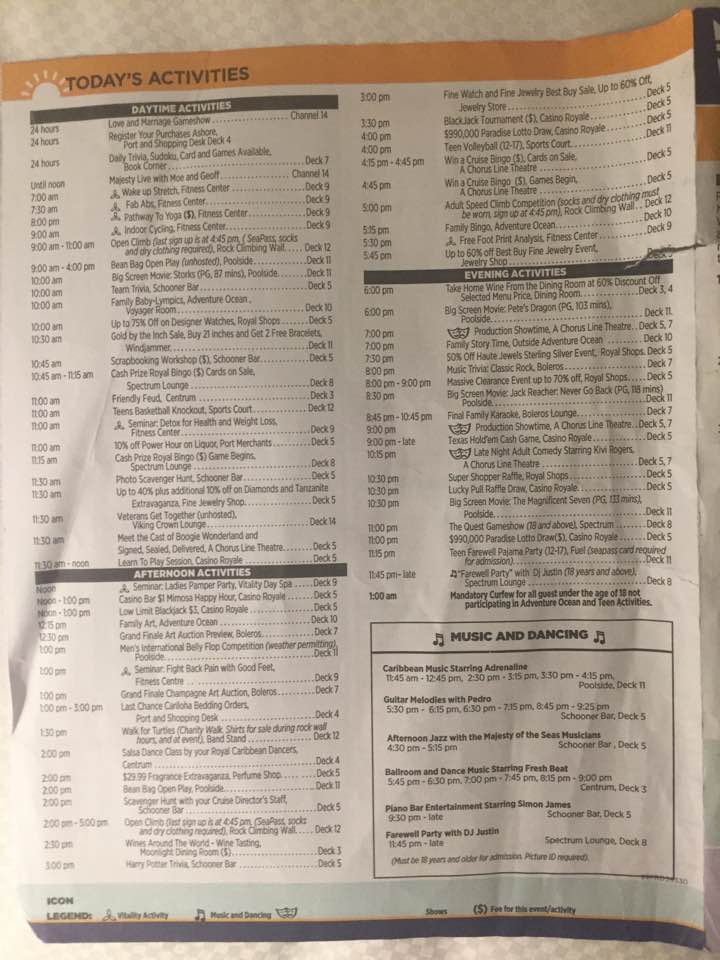 We went to a Harry Potter Trivia one day, as well as some of the performances in the theater. Aside from the swimming pool, the Majesty of the Seas ship also has rock climbing, basketball, and a few other things. I highly enjoyed the Belly Flop contest at the pool! See our Youtube video on our original review of Royal Caribbean Majesty of the Seas.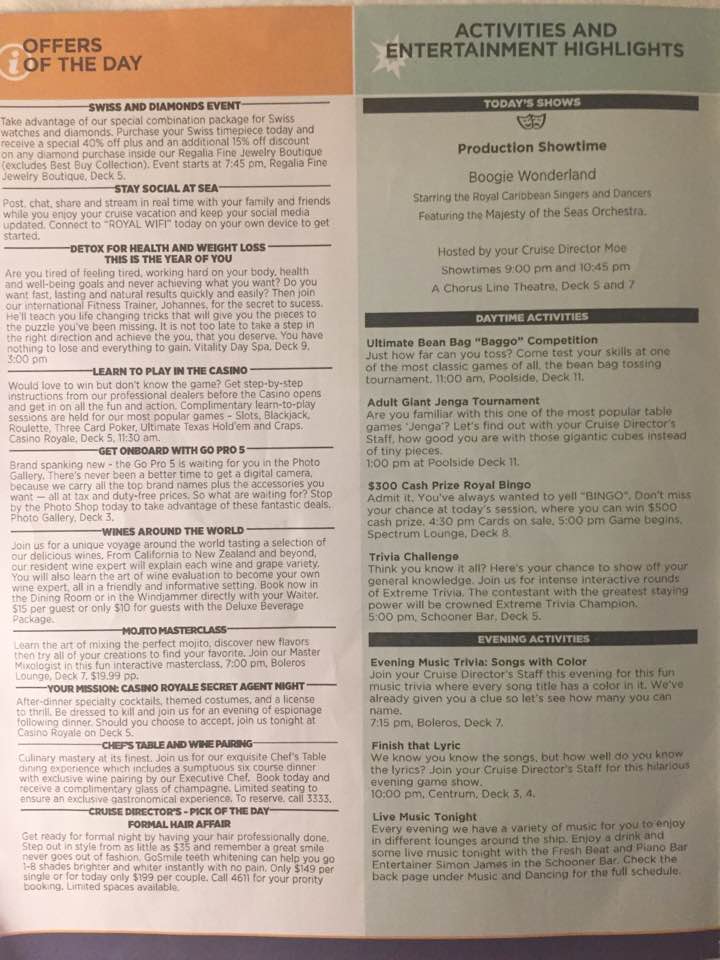 Another reason I was hesitant to go on Majesty of the Seas, was because I read a bunch of reviews about the food not being good. While the buffet dining room wasn't anything I would rave about, there are so many options that NONE of us ( 3 adults, 2 teens and 3 kids) ever went a meal without finding something that we loved. My best tip is to eat in the free sit-down dining rooms (starlight and moonlight Dining rooms) rather than the Windjammer because the food in those dining rooms are equal to a high-quality restaurants. Marvelous options that were really tasty, fancy and flavorful, and if you order something you don't end up liking, they are happy to bring you something else. One of our favorite parts of the cruise was the dining room because we got to eat fancy dinner every day and our servers were so friendly and fun! We all loved it. Make sure to check out our Majesty of the Seas Youtube Video to get a feel for what our cruise was like!
What Are Your Favorite Majesty of the Seas Activities?