This creamy hazelnut steamer is the perfect winter pick me up. Top with some rich homemade caramel sauce for a delicious treat.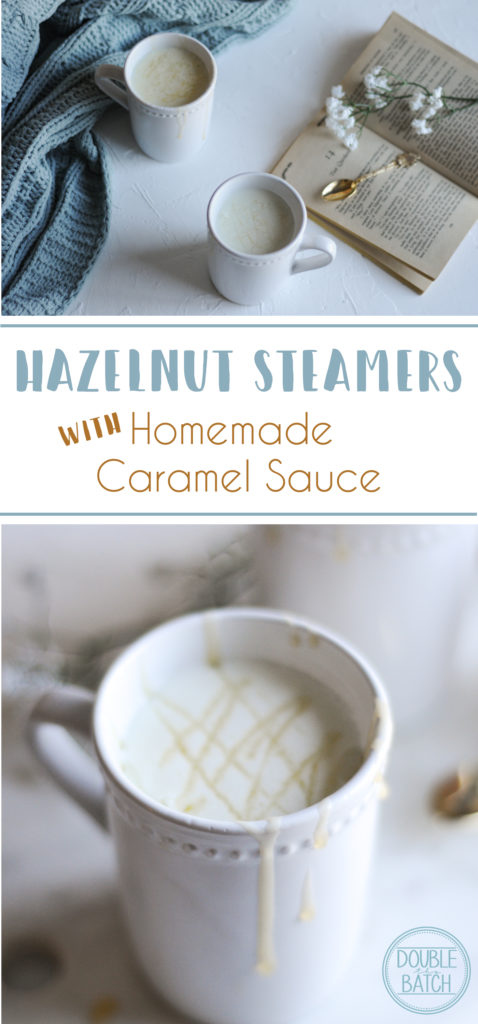 Growing up I traveled a lot for sports. I grew up in Alaska where the next closest school to play against was 3 hours away and the one after that was 3 more hours. It was always a lot of fun to travel with friends and feel grown up and responsible without any parents around. One of the many fun parts to traveling by myself was deciding how to spend my travel money. At some point during the trip we would often stop by a Starbucks or some other coffee shop. Everyone would get their coffee and look so cool holding their cup, slowly sipping it away. I however, did not drink coffee so I started to feel left out, and a little uncool. I wanted to hold my cup and take little sips too! This is how I discovered steamers. A steamer is a common specialty drink found at coffee shops that does not contain coffee. In fact it is just warm milk and flavoring!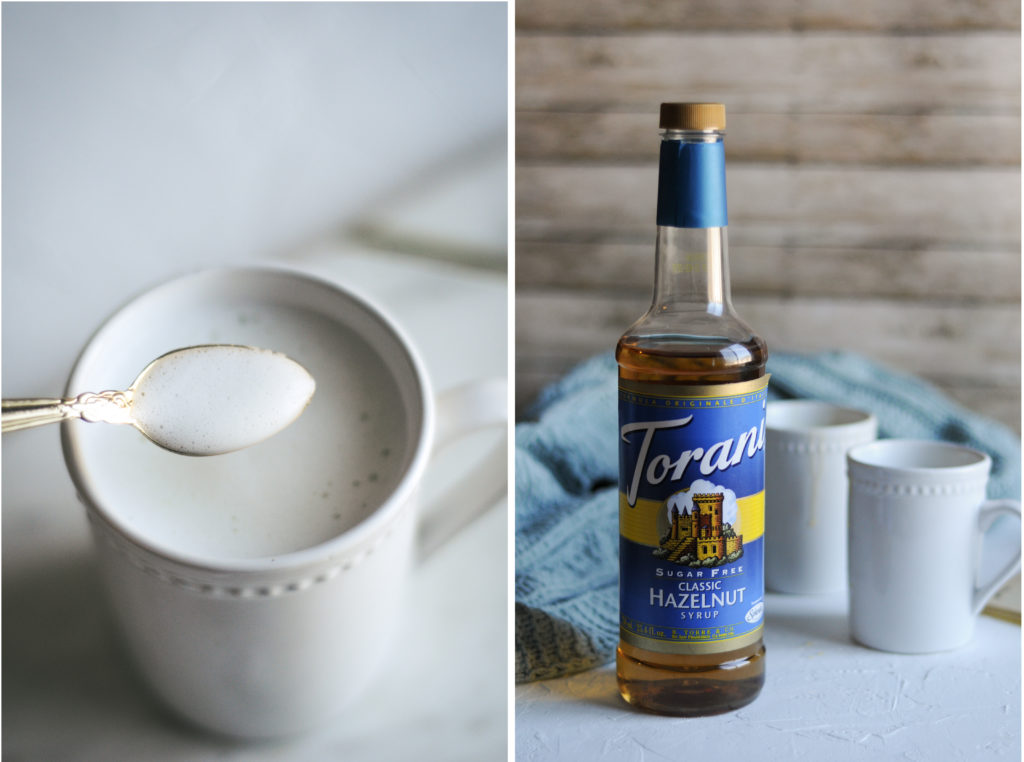 Years down the road, I learned just how easy it is to make my own steamers at home and now you can too! You start with milk, any precent of fat will work. I often use what I have in the fridge which is skim, obviously the higher the fat content the more creamy and rich your drink will be. Usually I'll add a tablespoon of heavy cream to add a little richness to it but if you're already using something like whole milk you could probably leave it out. The other half to a steamer is flavoring. I like Torani's sugar free syrups but you can use any syrup brand or even flavor! That is one of the most exciting parts about steamers, coconut used to be one of my favorites when I was a teenager. You can find Torani at your local grocery stores or on Amazon here.  
The next thing that makes a steamer special is the frothy milk that comes on the top. This is what used to make steamers so magical to me, until I figured out that you can do this at home super easily. You need a special tool called a milk frother. It's one of those small kitchen tools that you don't use that often but your glad you have when you do use it! Mine is from Ikea, and you can actually purchase it from Ikea through Amazon here. When you go to use it just make sure your milk is lower then the rim of your cup. The tool works by vibrating very quickly which makes your milk swirl around at first and rises up the cup a little. Simply move the little tool up and down in the milk and in about 3 seconds you will have a beautiful layer of fluffy froth on the top of your steamer! If you don't have a frother and don't want to buy one, don't worry you can still make a steamer it just wont be as magical. 😉 If you still want to add a caramel topping to it I would suggest putting a layer of whip cream on top otherwise your caramel will just fall to the bottom of the cup.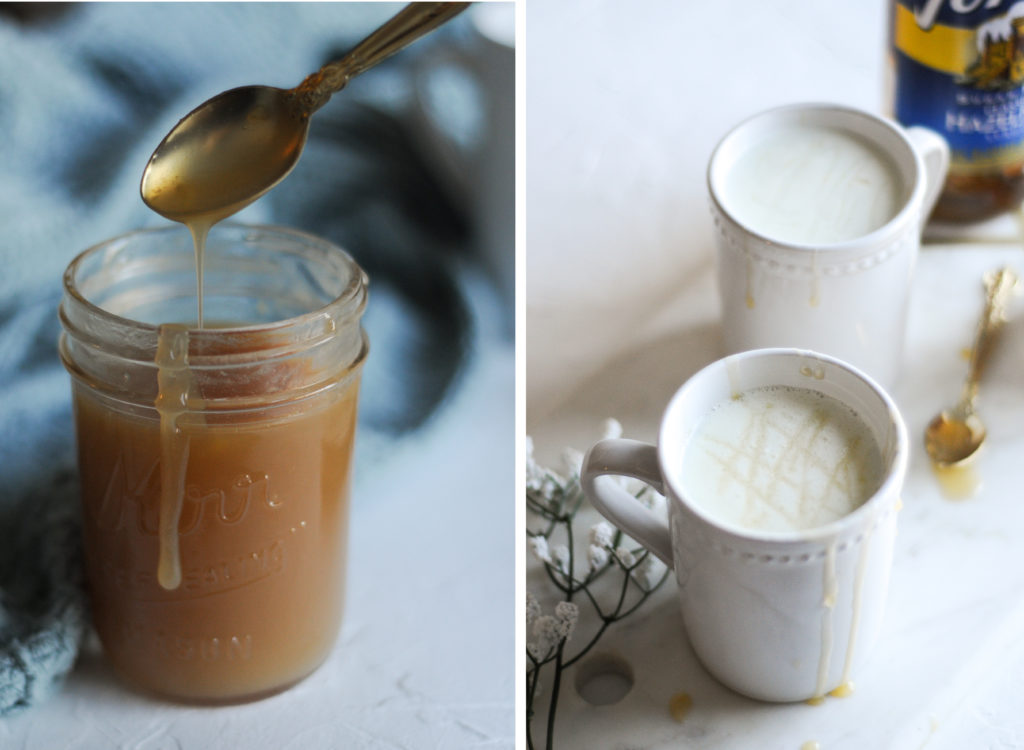 I've included with this steamer recipe a homemade caramel recipe. I think hazelnut and caramel go together perfectly and if you have never made caramel using just water and sugar you absolutely have to. Its really cool to watch it transform and makes you feel like a legit cook. Although I've listed the steamer recipe before the caramel, I would suggest making the caramel beforehand so it has time to cool. Once you've made a batch of caramel you will have extra for future steamers making only the first half of the recipe necessary. ENJOY!

Hazelnut Steamers
A great alternative to hot chocolate, creamy warm milk with hazelnut flavoring. *Double the recipe for each additional cup.
Ingredients
Hazelnut Steamer
1 Cup Milk
1 Tablespoon Cream
1 ½ Teaspoon Hazelnut Flavoring (I used Torani)
Caramel Sauce
¾ cup white sugar
¼ cup water
½ cup heavy cream
1½ tablespoons unsalted butter
Instructions
Hazelnut Steamer
Heat milk in a saucepan or microwave until desired drinking temperature. Milk should be hot but not too hot that you can't hold the cup.
Fill cup slightly below full.
Add cream and hazelnut flavoring.
Use a handheld milk frother to create a nice layer of froth on top.
Caramel Sauce
In a heavy-bottomed sauce pan, combine sugar and water over medium high heat.
Once the the mixture starts to boil do not stir or touch it in anyway.
Let the mixture boil until it becomes an amber color. You do not want it to turn brown which can happen very quickly after it turns amber, so stay close by.
Once it has turned amber, turn the heat to low and gently add cream and butter into the pan.
The caramel will foam up and may rise up the sides (be careful it will be Very hot) it may also start to harden but continue to stir the mixture until it is combined. If needed turn up the heat to allow it to melt again.
Let the caramel cool and once it has the consistency of a thick syrup pour over steamer.
Store left over caramel in a sealed container in the fridge.