Nothing says exciting than glow in the dark activities!! One thing I used to love about summer time as a kid was playing night games with the rest of the neighborhood. There's just something neat about playing outside in the summer when it starts to get darker and the temperature cools down a little.
Combine that with the magic of glow in the dark and you've got yourself a really good time. I came across a really fun glow in the dark activity on Pinterest the other day which sparked this fun search of glow in the dark activities that you can do with your kids this summer. Most can be played outside but there are a few that you can play indoors too!
Here is your 23 Glow in the Dark Activities
What kid doesn't love slime! Super fun!

Make this even funner with no mess by letting them loose in the bathtub! Making it an easy cleanup as well!!

Water fight at night time? I can picture SO many fun games that would involve these!

How fun is this! Such a great idea!

Oh the hours spent playing hopscotch!

If you are throwing a Glow in the dark party, you should definitely check out this website. She has SO many fun glow in the dark ideas!

Just watch the video of them playing in the dark. So fun!


Ummm how fun would this be?! I've also seen people change up bath time with glow sticks!


(glows in the dark, floats on water, squeeze it, juggle it, etc…)

If you're feeling EXTRA ambitious, you could put glow in the dark paint on the circles for a more "glowing" experience!
#18- Critter Catching Kit.
Tell me your kids wouldn't LOVE this! I know I would.
#19 – Glow in the dark Jenga by BuzzFeed.
Jenga in the dark! Yes!

This is one of my favorite glow in the dark activities.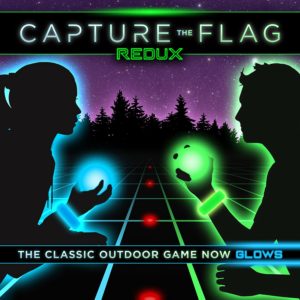 This would make for a great summer night party with you kids of all ages! I hope you enjoy them all!
Save these awesome activities for later by pinning the image below