Every year when the school year draws to a close I breathe a sigh of relief. "Yay!" No more carpooling, no more waking up early to get kids off, no more volunteering or homework…at least for 3 months. Then summer hits, and I wonder what I was thinking. The kids are bored, the kids are fighting, the kids want to play with friends and watch tv 24/7. By the end of summer, I'm exhausted, grumpy, and SO ready for school to start. Why? Because school forces us to have consistent routines and makes life run a little smoother. I also get so much more done because my kids ARE AT SCHOOL. But summer should be a time for fun and joy for the whole family. Here are some tips I have found for surviving and (and enjoying) the summer months with kids!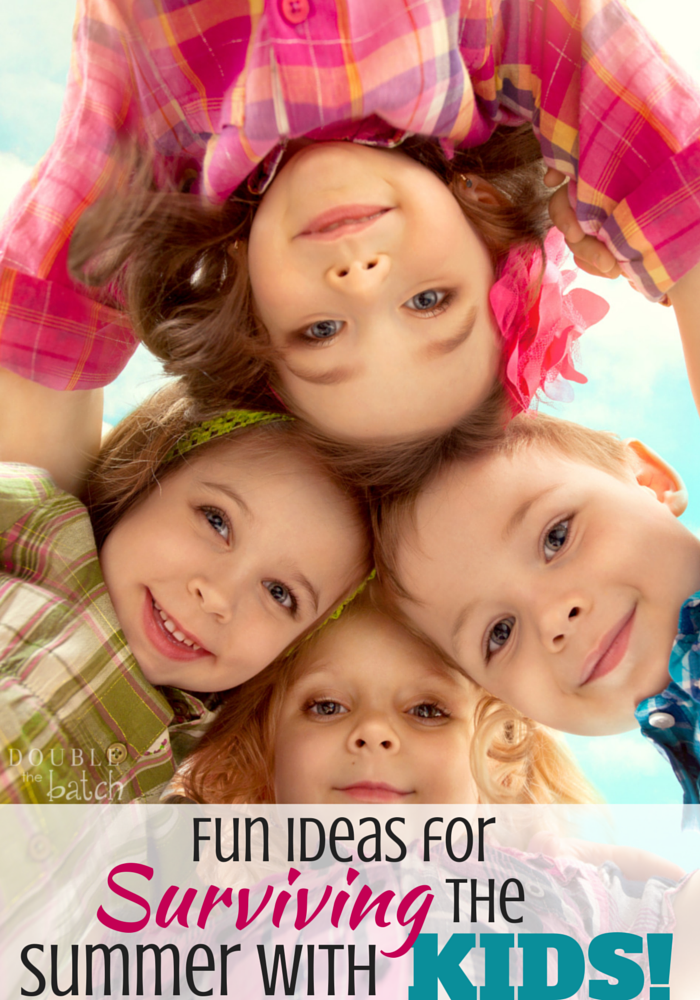 Set up ROUTINES. A routine is just something that you do consistently every day (usually at the same time). Kids are used to having routines at school. Routines are a GOOD THING. They give kids security and help to keep the chaos at bay. Free time is also a good thing, but I have found that if my kids have too much of it they get bored and start whining or getting into trouble. If you are consistent and follow the same routines at the same time each day, eventually your kids will have it memorized and they will be reminding YOU what comes next.
Here's a sample of what our summer routines look like:
Breakfast
Clean up (make beds, help clean up kitchen)
Go for a walk, play at park
Lunch (sometimes we take a picnic to the park with us).
Quiet time
-Reading (pick a subject and read up on it, then draw or paint pictures of what your learned about. Then plan a time to go on a field trip. For example learn about fish and sea creatures, draw pics then plan a trip to an aquarium or go to the pet store and buy a fish)
-Arts and Crafts
-Screen time (this is the best time for my kids to have their screen time because it's the hottest time of the day, and also my baby's nap time so it keeps everyone quiet)
-Outside play/Friend time
-Dinner
-Baths
-Cleanup/individual chores
-Family prayer and scripture
-Bedtime
Another fun thing to do is have themed days where you do a special activity each day to go along with the daily theme. Here are some fun themes I'm using for my kids:
Mailbox day. (Make mailboxes out of cereal boxes and hang on each of their doors. Have a box with supplies for writing letters, such as fun paper to make homemade envelopes, colored pens and pencils, markers, glue, scissors, and lost of fun stickers to use for stamps)
Building day. (The sky is the limit. Build a fort, build cars out of boxes and have a drive in movie later, build a tunnel in the dirt outside, use play dough, make volcanoes, sculptures with clay, you name it!)
Reading day. (Great day to go to the library, read new books during the hottest part of the day, or even have your kids create their own book with pictures they draw themselves then staple them together and have them read to dad that night)
Baking day. (My kids LOVE to bake. It doesn't even have to be something that you have to cook. Just fun with food in the kitchen. Great time to teach simple fractions, measurements and kitchen safety)
Field Trip Day. (Have them help you make a list of places they want to go during the summer then tackle the list one at a time on this day. Even just a trip to the pool or a new park would be fun)
Arts and Crafts Day. (The sky is the limit for this one!)
Games and Puzzles Day. (Here are some great ideas for cooperative games!)
Summer is also a great time to squeeze in new chores. There's not a whole lot of time for them to do a lot of chores during the school year. By the time they get home from school and get their homework done, it's time for dinner and bed. Now is the time to teach them new skills and responsibilities. Give age appropriate chores that have to be done each day to earn fun time. I like to do chores after dinner so that we wake up to a clean house and can dive right into our fun day. If my kids are motivated and get their chores done by 7:00, I usually let them watch 20 minutes of tv at night before stories and bed.
Awards are great to motivate kids for the 'not so fun' chores that need to be done. Or they can earn points for extra screen or friend time. That's a whole other subject for another post.
Have fun his summer! Before you know it, another school year will begin. Enjoy the precious time you have with your kids. They grow up so quickly!