Disneyland can be a lot to take in when you first get to the park- in a good way. All the sights, sounds, smells and excitement make for a great start to your day in the park. I have gathered the best tips for tackling the first three hours you are in the park to make it a little less overwhelming. But first, you need a way to get there! Luckily for you, my friends over at Get Away Today are here to help. They are experts in all things Disneyland and Southern California. Not only that, but they have discount Disneyland tickets and reduced hotel rates to make your magical vacation affordable. You can even use promo code Uplifting10 to get an additional $10 off your hotel and tickets package!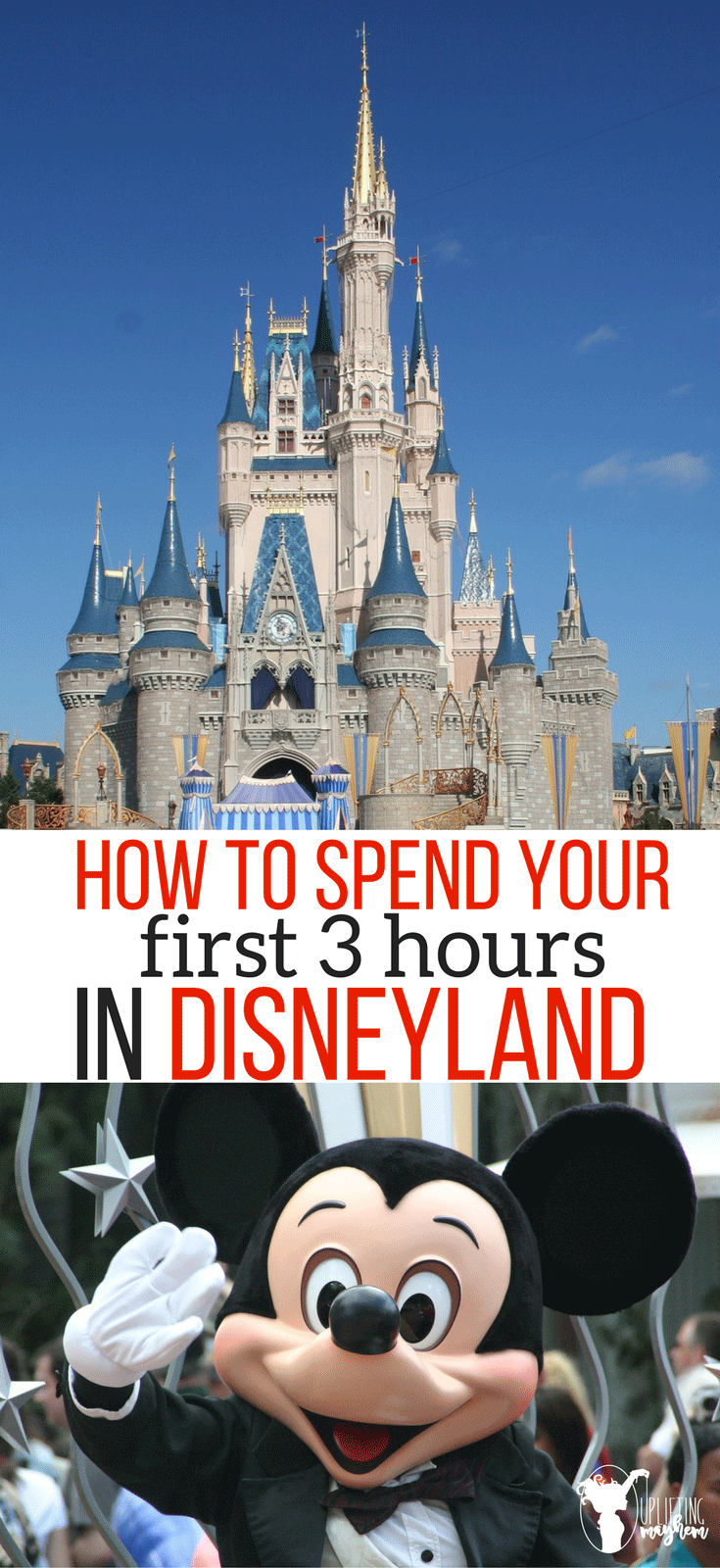 Before entering Disneyland Park:
Your day really starts before you actually get to the park. That's right, you need a little preparation prior to getting there. It is always recommended that you get to the park an hour to a half an hour before they actually open. This is so you can get in line and get into the parks right as they open.
Start the day by waking up early enough that you can get a good and filling breakfast before you get there. Get Away Today offers tons of hotels that include breakfast for their guests, and you can find them all here. The more you eat in the morning, the longer you can last until lunch time – giving you more time to experience all you can in Disneyland! It also isn't a bad idea to decide either the night before or the morning of what rides you want to hit and the best order to do them in. This saves a whole lot of walking time!
Hour One:
The gates are open! What do you do now? We recommend getting a Fastpass for your favorite ride first. Once you get your Fastpass, head to the popular rides that get busy quickly so you can ride without waiting as long as you might have to later in the day. Some of these rides include Peter Pan's Flight, Pirates of the Caribbean, Radiator Racers, Guardians of the Galaxy – Mission: BREAKOUT! and Indiana Jones Adventure. The mornings are the least busy time of the day in Disneyland and California Adventure so be sure to take advantage of it.
If you have 3-day or longer tickets or are staying at one of the Disney properties, be sure to take advantage of your Magic Morning/Extra Magic Hour! This lets you get into the park an hour before everyone else and ride your favorite rides with less wait time. You can get into Disneyland Park an hour early on Tuesday, Thursday or Saturday mornings. For the Magic Morning, most of Fantasyland and Tomorrowland are open for your enjoyment. If you are staying on property, you can get into California Adventure an hour early on Monday, Wednesday, Friday and Sunday.
Hour Two:
With a Fastpass in hand and the first few rides checked off, what's next? Chances are, your Fastpass time is ready or is coming up soon. Check and see if you are eligible to get another Fastpass, and if you are, grab it! The more Fastpasses you can get, the more rides you can experience during the day. Use up your Fastpass and continue riding your favorite rides, most likely this is still going to be the least busy part of the day so you will definitely want to take advantage of it!
Hour Three:
You've gotten as many rides in as you can in the morning and you might be feeling it now, or your feet are at least. This is a great time to take a break and watch a show. Some great options during the day are Frozen – Live at the Hyperion Theater, Mickey and the Magical Map or a performance at the Golden Horseshoe (get the secret ice cream nachos while you are there!). If you prefer parades, there's that option too. The parade schedule changes depending on the time of year, but this is a great option to rest your feet. Grab a churro, take a seat and enjoy!
Disneyland is such a fun spot for your vacation, and now that you know how to start your day, what are you waiting for? Give my friends at Get Away Today a call and book your Disneyland package today! Take advantage of their discount Disneyland tickets and reduced hotel rates to get the best price on your package. Don't forget to use promo code Uplifting10 to get an additional $10 off your hotel and tickets package!