Are you looking for something different for your family this year for Christmas? Are you tired of all of the commercialism that can come with the season? This year we decided to gift our boys experiences that last all year round instead of gifts that break or remain unplayed with. We created these experience coupons that focus on time spent with our kids rather than things spent on our kids.
I asked my kids the other day if they remember what they got two Christmas' ago, and they couldn't remember. However, they do remember the service project we did, and the time we spent together as a family. It is the experiences that you share together that will fill their hearts and these experience coupons will do just that.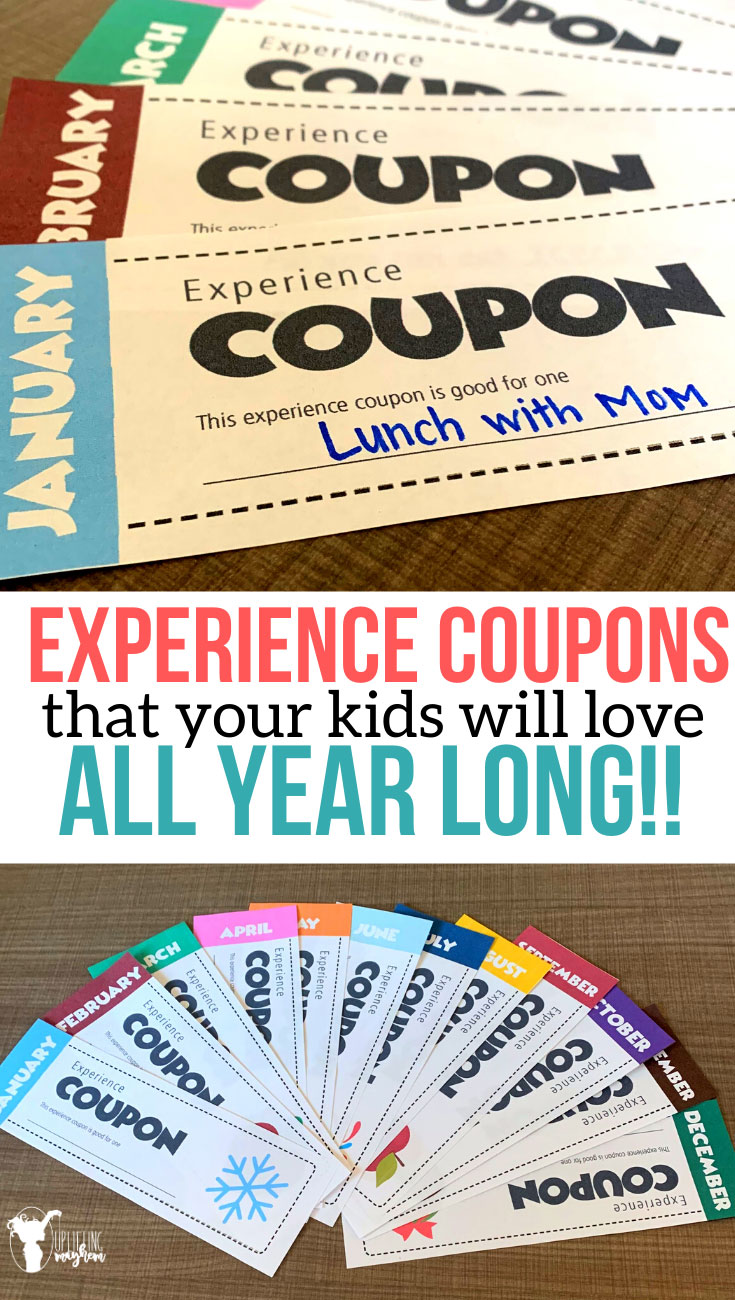 Why experience coupons???
We haven't followed a traditional Christmas in years. Instead, we head to Mexico for almost 3 weeks over the Christmas break. It is fantastic and something we look forward to every year. At our house, Santa comes the morning before we leave to Mexico so Santa can find us (and to save space in our motorhome).
My kids have never known a Christmas morning of present opening on actual Christmas day. (Don't feel bad for them…it is actually fantastic). Instead we are usually on the beach playing ultimate frisbee, or doing a service project somewhere.
I'm going to share a not so fantastic mom moment that we had a couple years ago. Or maybe it was….I guess it depends on who you ask. HA HA
We were finished up the last minute packing so we could get on the road. That morning Santa had come and my boys were so excited, and playing with their new treasures. I don't blame them! It is an exciting time. I had left them pretty much alone all morning while I packed, but as we were getting nearer to leave, I was needing some help.
Around lunchtime, I began requesting help which didn't going very well. I asked my boys to take some items out to the motorhome probably 500 times (ok maybe not that many but it was a lot), to which I was ignored at each request.
After many requests with no help I said the infamous last words, "I am going to throw everything that is out away if you do not come and help me."
What do you think happened?
HA HA you probably guessed they came running to help, right?? They didn't. What happened next could have been a scene from a scary movie. I am still amazed at how calm I was through this whole ordeal especially as I calmly grabbed the kitchen garbage can and went around throwing everything that was out away………..
Oh my goodness!
There was wailing and crying going on in the extreme (no exaggeration).
It was at that moment that I realized that materialistic stuff takes away from what Christmas was supposed to be about. I truly thought that I would not have to follow through with my infamous last words but I did. It was HARD and something I never want to do again. As I was throwing brand new toys away, my boys went to call my husband to tell him that Mom was going crazy (enter eye roll, I was actually extremely calm).
During this time I began to contemplate how I can bring the true meaning of Christmas back into our home during this season. That is when I came up with these experience coupons and this is the year my boys get them. I am sooo excited for these experience coupons I can hardly stand it. Each child will receive one for every month and the possibilities are ENDLESS.
I asked my boys some ideas of things that they would like to do as a family or one on one so I could have more ideas to give you. As they brainstormed they were getting excited and kept asking, "Wait, is this just for the blog? This would be cool if we got these!"
So here ya go, GET YOUR FREE EXPERIENCE COUPONS HERE!!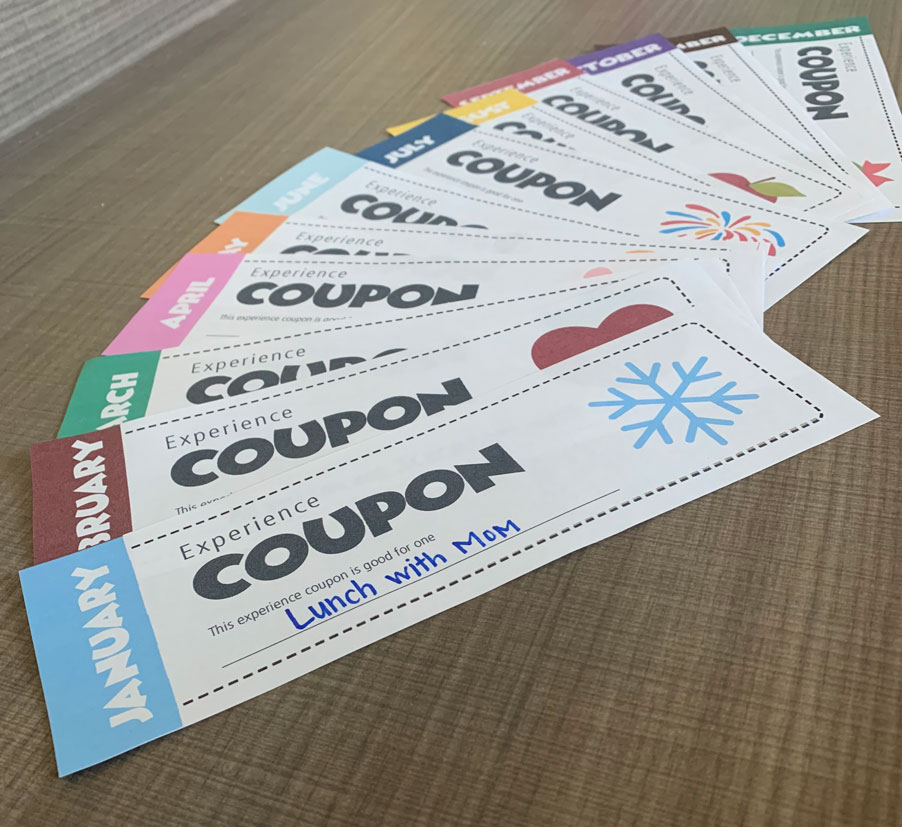 Here are some ideas that you can put on your coupons for your kids
Lunch date with mom or dad or both

Stay up an hour longer and you choose the activity

A new pair of shoes – My boys usually start wearing out their shoes in March which is way past Christmas time. This is a perfect solution so they can turn in their coupon when they need a new pair of shoes.

Ice cream night

Get out of jail free card (Ha ha this was my husbands idea that I had to throw in)

Go to the movies

Trip to an amusement park

Rock Climbing

Bowling Night

Movie hot tub party

A new article of clothing

Family Movie night (or morning if you want to throw a twist on it)

Escape Room Night

Dinner with Parents

Get a manicure/pedicure together (if I only had a girl)

Swimming Pass or a trip to the pool

A Trip to the Zoo

Tickets to a Sporting event

Tickets to a Play

Ninja Warrior Gym

Trampoline Gym

Ice Skating

Roller Skating Rink

Treasure Hunt

Float a River/ River Rafting Trip

Hot Dog and Marshamallow Roast in the backyard (or up a canyon)

Visit a National Park

Put together a puzzle all day

Pickle Ball or Tennis Tournament

A trip to the gas station to get a slushy

Eat dinner with your fingers night

Board/Card game night

Eat dessert first night
These are just a few ideas that we had. I'm sure you can think of more that is conducive to where you live. These experience coupons are a great idea especially if you are on a budget. It is about time that you spend with your family and not about things. For other ideas to create a magical Christmas on a budget, check this post out.