Opening up a Christmas card from a family member or friend is sure to bring joy to your heart. This holiday season don't resort to magnets on the fridge or piles in the hallway, display your holiday cards from loved ones easily and in style. For under $15, this versatile piece of home decor can be used year round in your home office, entryway, or to display children's works of art.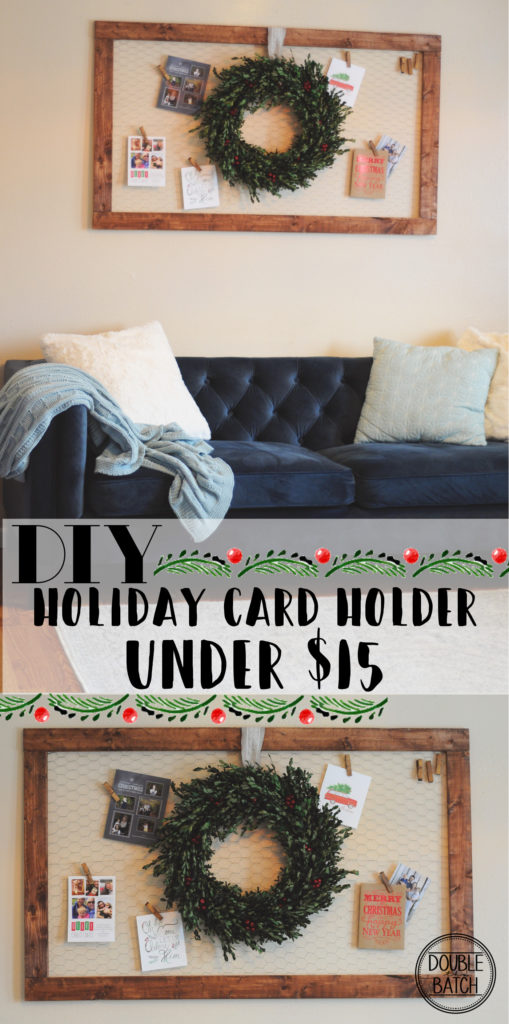 Every day either my husband or I walk to the end of our drive to check the mail with our two year old son. He loves checking the mail. Like a dog asked if he wants to go for a walk, he starts jumping in excitement and runs to the door to get his shoes on. Around the holidays I start to get this same way. Alongside bills and credit card offers I know that there is good chance there might be a Christmas card or even a package from family or friends waiting for me. I am one of those people who have a box in the closet with old birthday, engagement, and Christmas cards pilled up for safe keeping and future reminiscing. Whenever I get a card however, they usually get left on the kitchen counter for awhile before finding space on a small clothespin card holder I have forcing older cards away to the box and into the closet. I loved the idea of clothespins because it makes it easy to add and rearrange photos and cards, I just needed something bigger. In comes chicken wire, stained wood, and a boxwood wreath.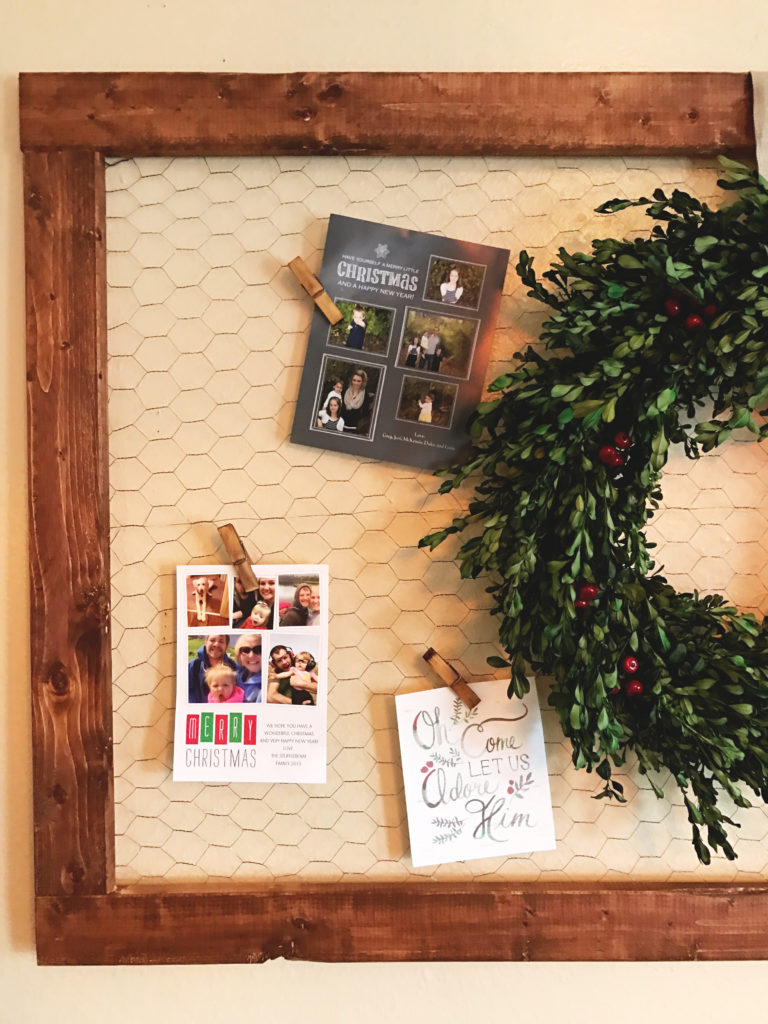 This DIY is fairly simple, and most importantly cheap! You can find all the needed materials at Home Depot, however to get the best prices I only purchased the wood and chickenwire from there (actually I already had chickenwire purchased from a dollar store during the summer but Home Depot has the best price and the right size if you don't already have it). I then bought the stain, push pins, and corner braces from Walmart. So, without further ado here is a step by step to create your own holiday card holder!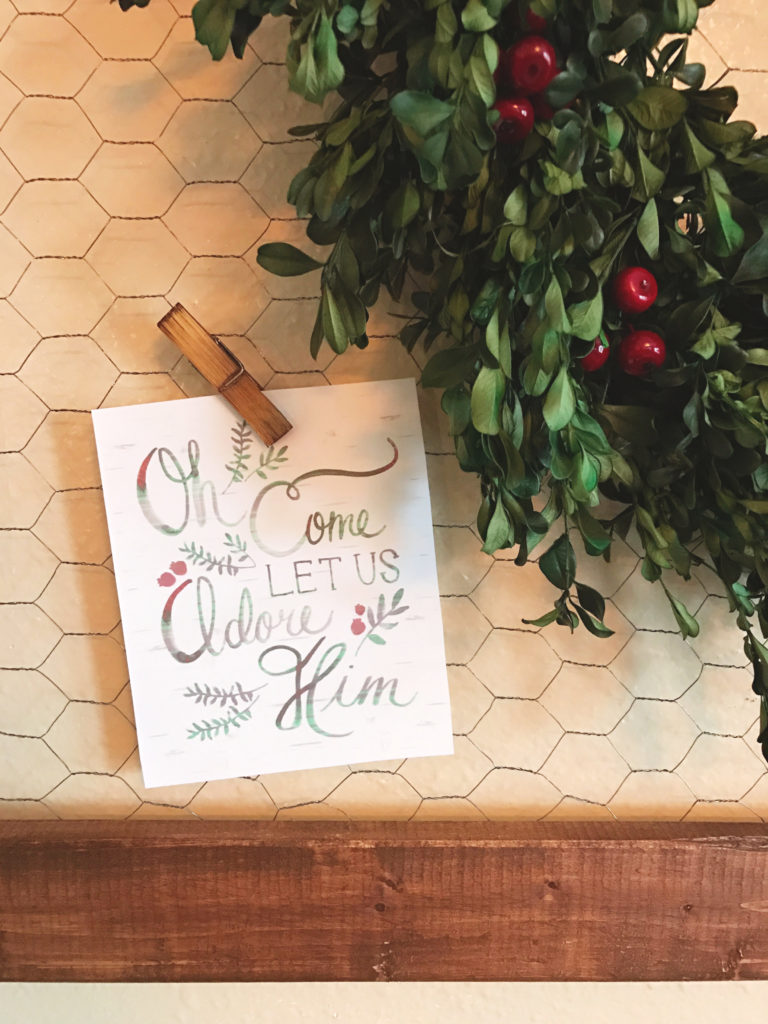 MATERIALS:
2 -1×3 8 Foot strips of wood
4 – Flat Corner Braces w/ Screws (one packet)
1 Packet of Push Pins
Stain – I used English Chestnut
DIRECTIONS:
1. Start by cutting your wood into 4 pieces. The length of your frame will be 4 feet and width 2 feet. You will need two 4 feet and two 2 feet strips of wood. You should have one 4 foot section of wood left over from your original 8 foot strips of wood. You can even use the cutting stations found in the isles at Home Depot like we did to do this.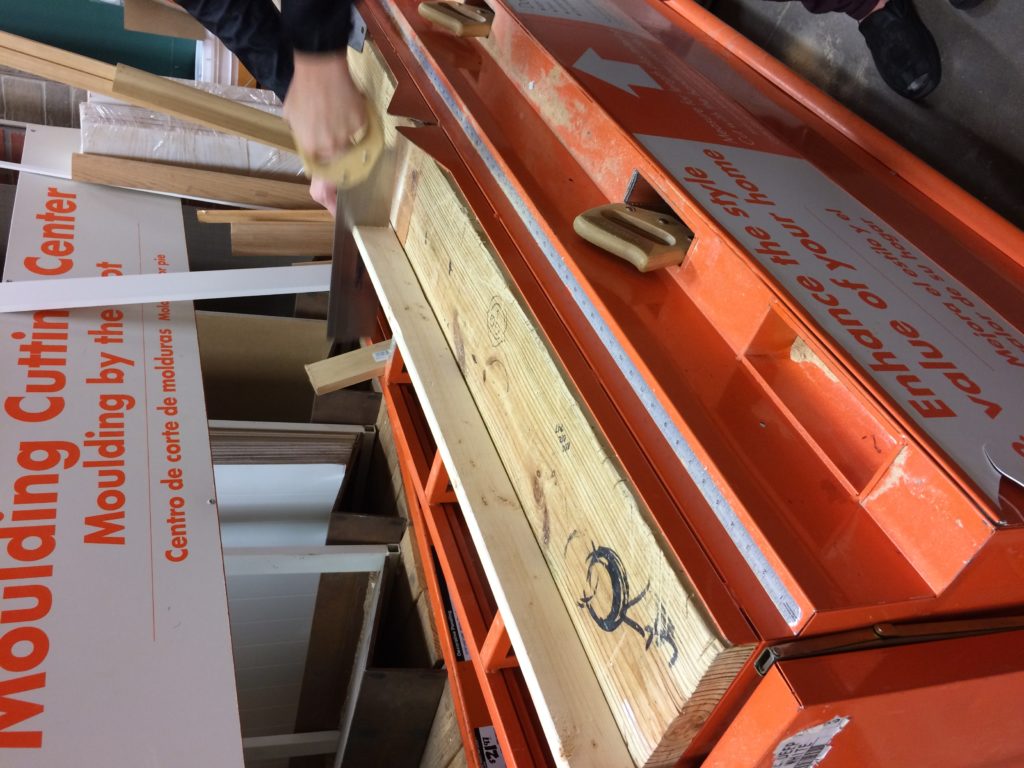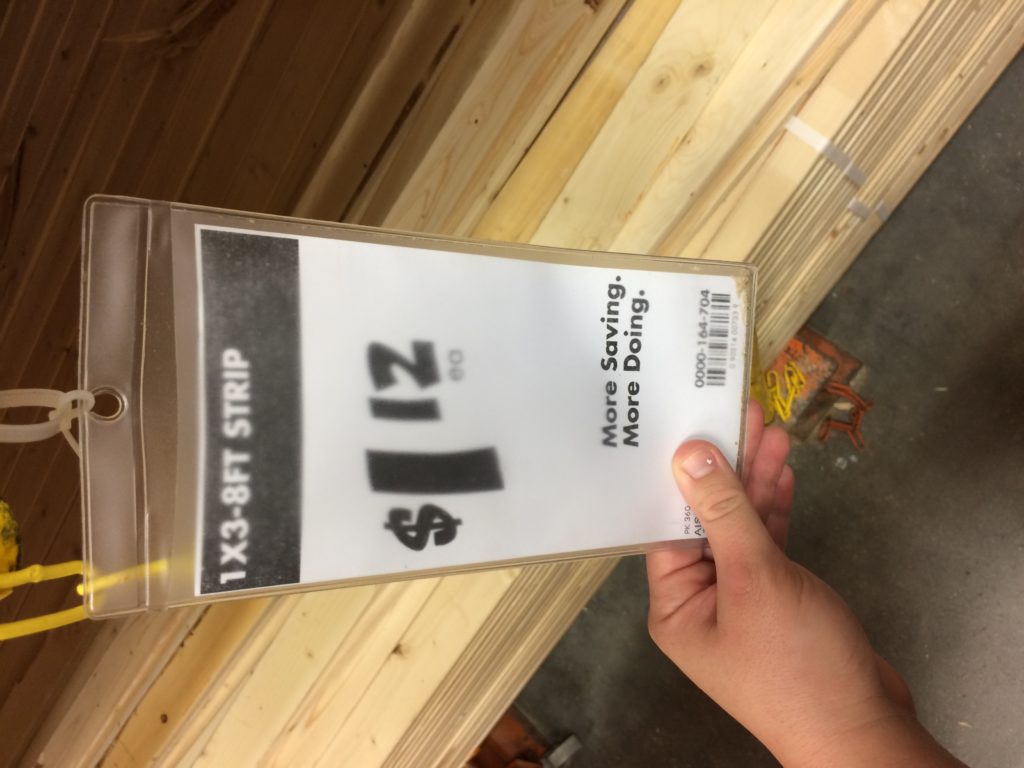 2. Lightly sand any imperfections or rough pieces of wood. Aline your pieces into a rectangle and using the screws provided, attach a brace in each corner. *The braces will be on the back of your frame. If your wood has any imperfections you should have them facing you so they are hidden.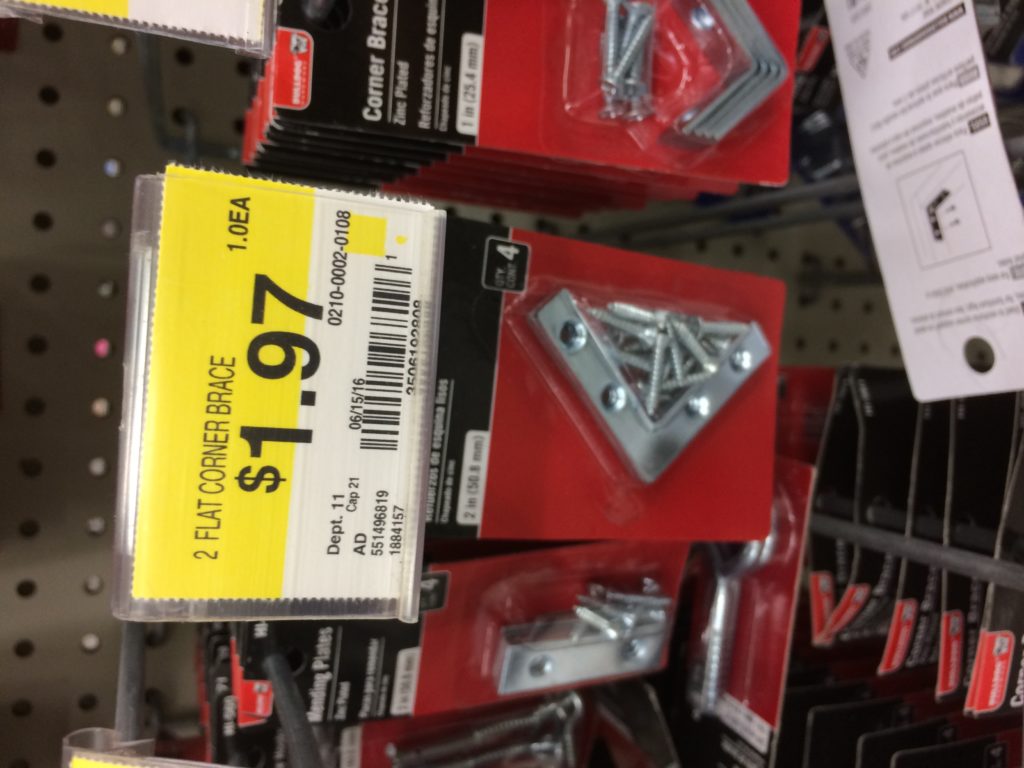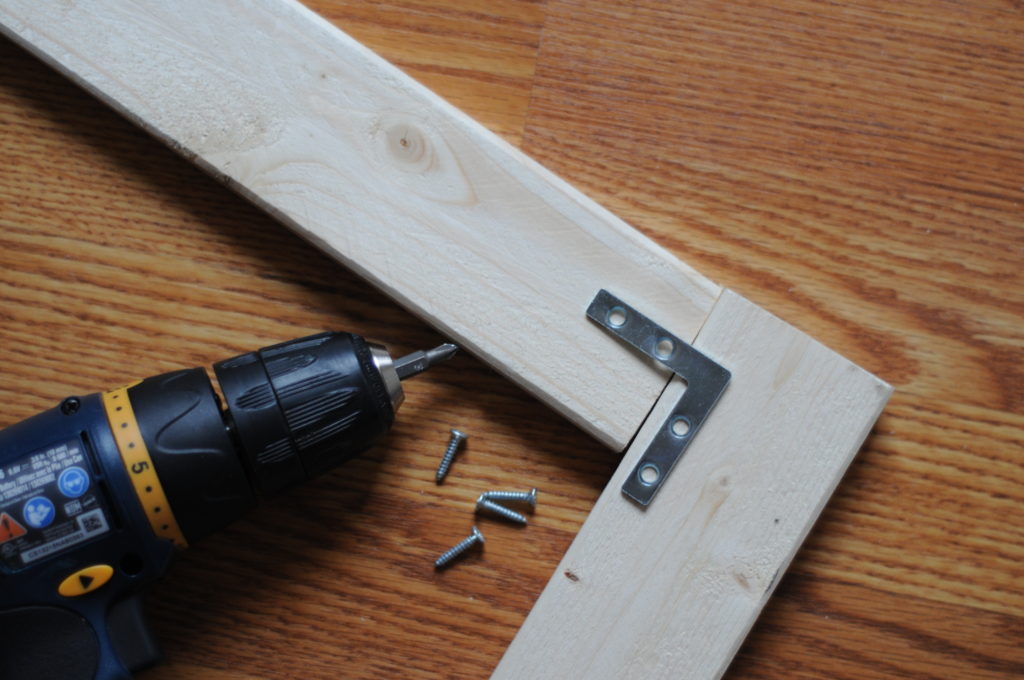 3. Stain your wood by following the directions listed on the product. * You do not necessarily need to stain the back of your frame, the side with the braces, as this will be facing the wall but make sure to stain all visible sides and edges.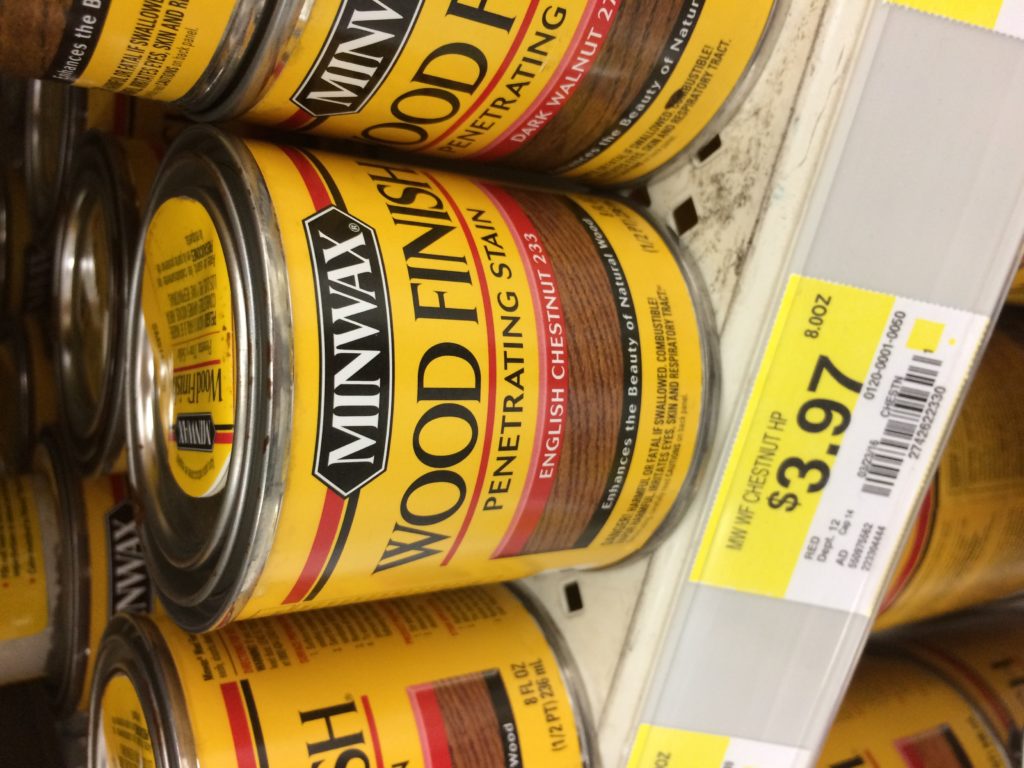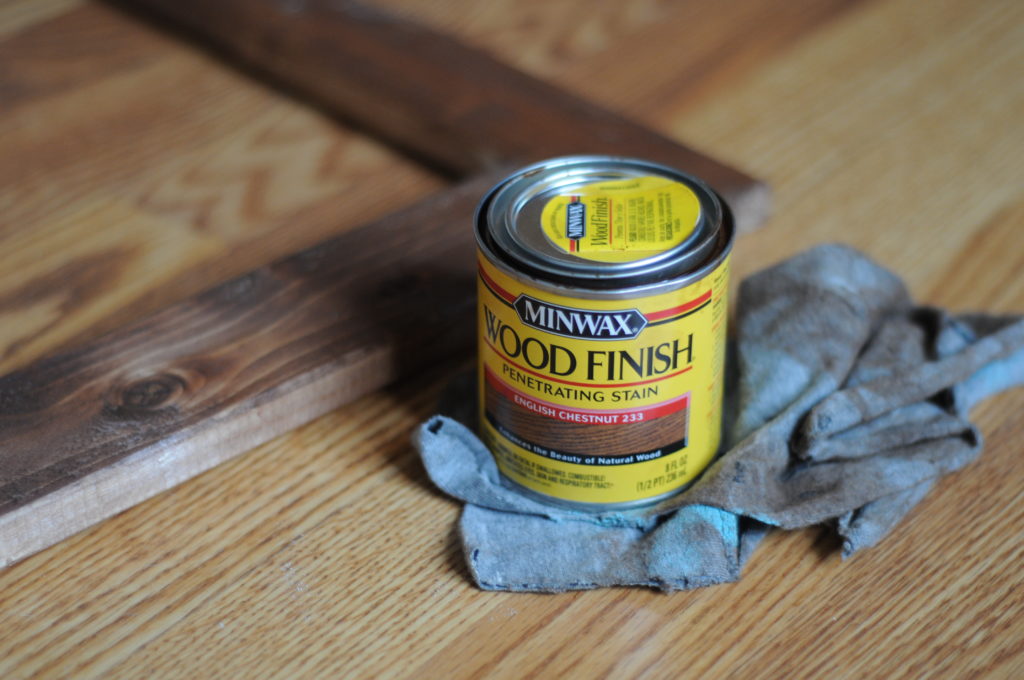 4. Once your stain is dry, turn your frame so that the back is up (the side with the braces). Roll out your chicken wire to length and cut. If you purchased the Home Depot chicken wire it should be the exact width needed, 2 feet. Using your push pins, pin down the chicken wire to the frame in an even consecutive manner making sure the wire is slightly stretched to eliminate any sagging.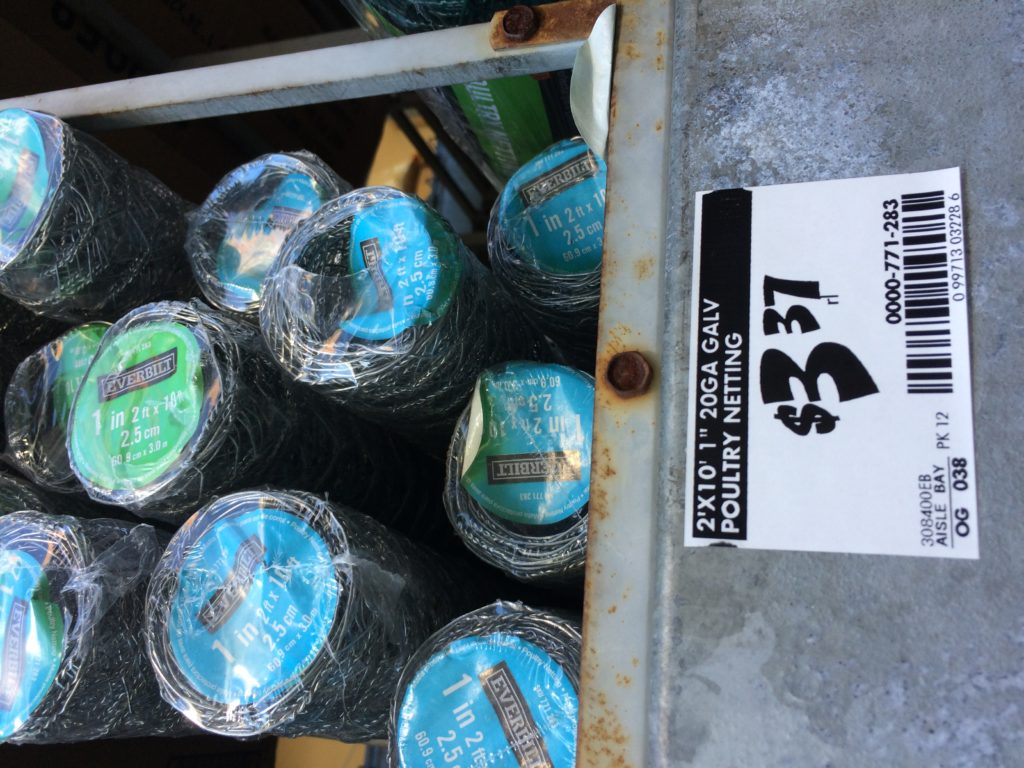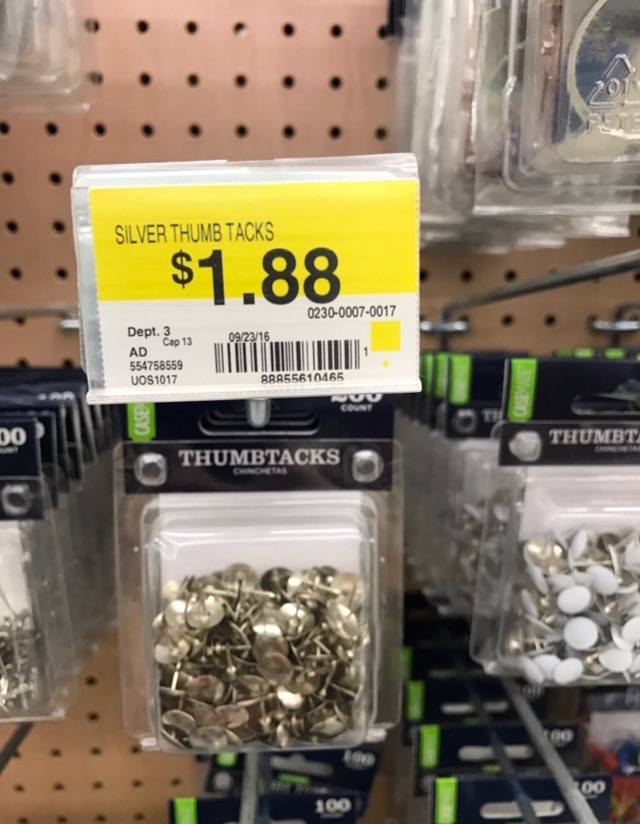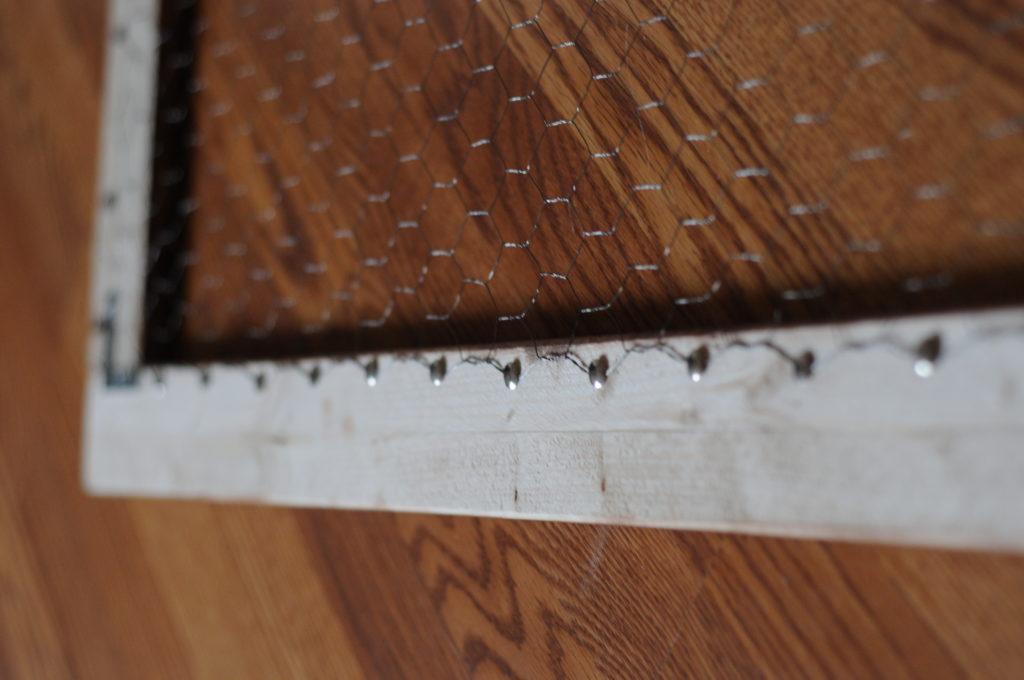 5. Add a wreath, clothespins, and cards and you're all set!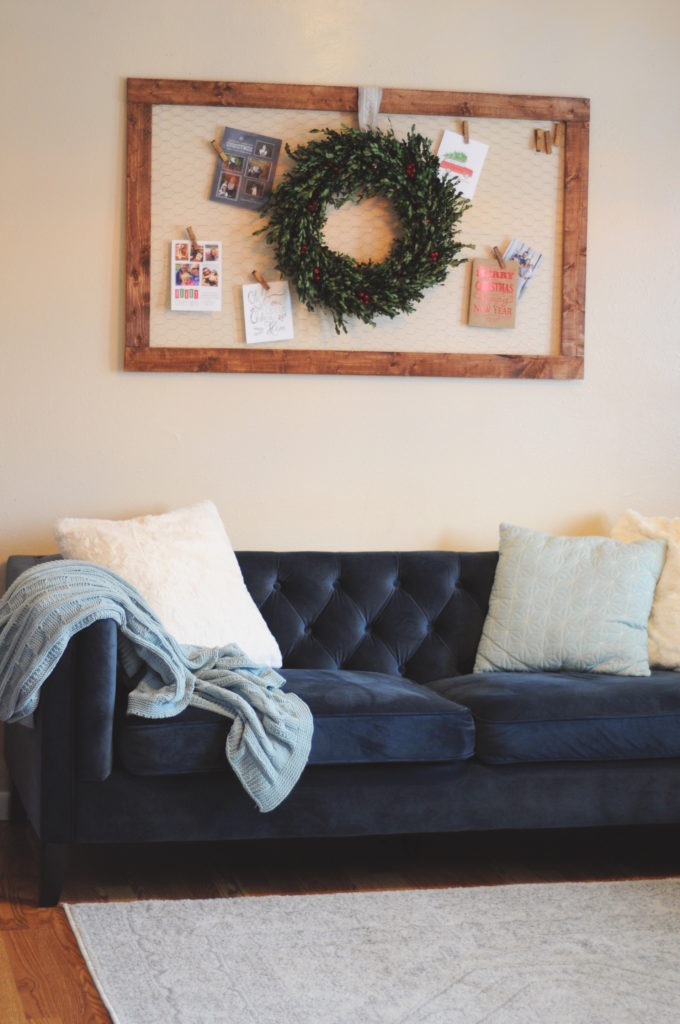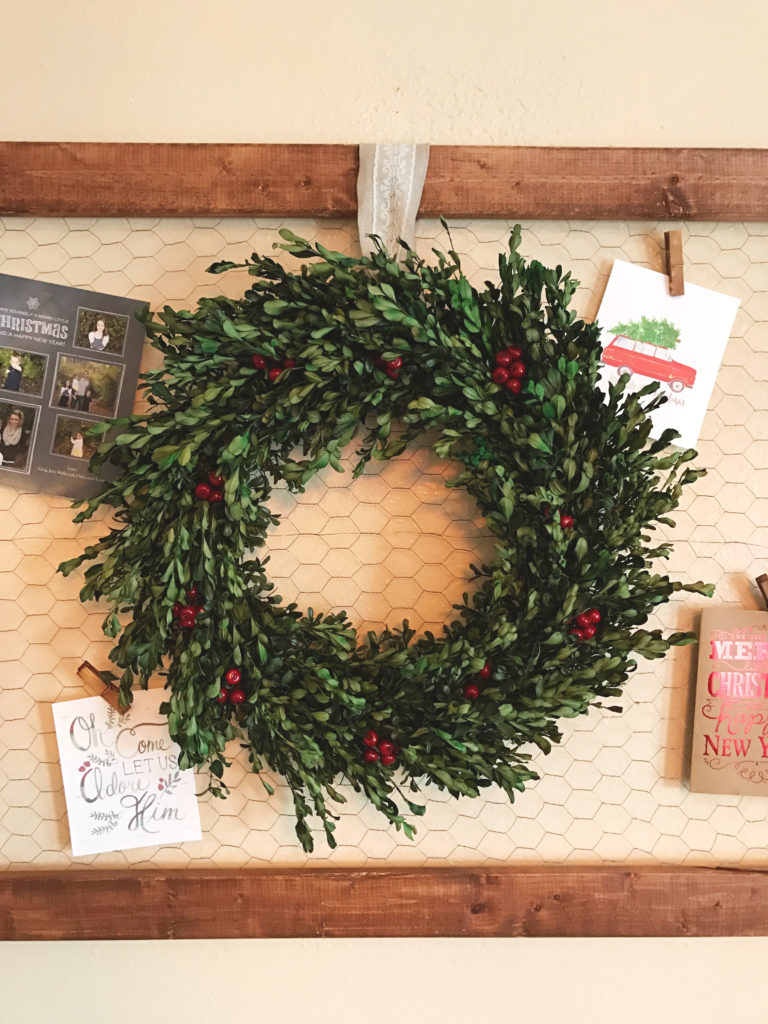 Your new card holder isn't just great for greeting cards. It can be used year round in your home office, entryway, or to display children's works of art.