No need to spend money and wait for shipping. With these easy printable pregnancy announcement cards, you'll be sharing the joy with family and friends as soon as your ready! Simply download, fill in your own wording, and print!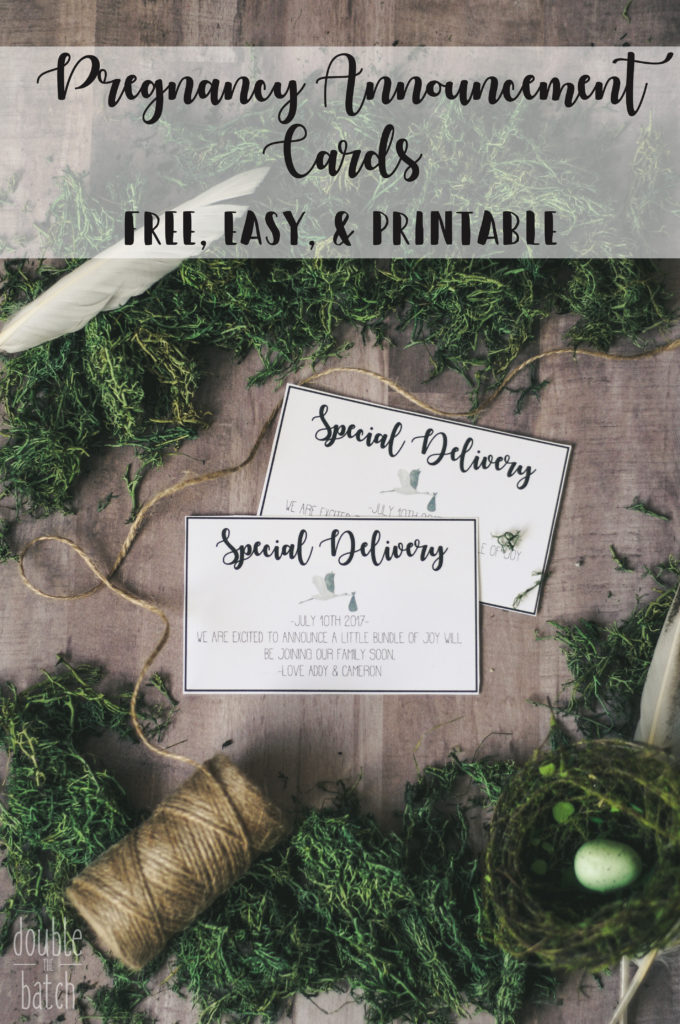 When I was expecting my first child, I scored over Pinterest and Etsy looking for that perfect pregnancy announcement option to send to far away family and friends. I ended up finding the cutest little eggs on Etsy that say "crack me" and inside waited a piece of paper announcing our exciting news. I loved this idea and put in my order and then waited for my little eggs to arrive. After arriving, I then went to the post office shipped them off and waited again, for that anticipated phone call from family members who would share in our exciting news. I really loved our announcement, as did family, and when we found out we were expecting baby number two I want our announcement to be just as special. This time I decided to cut the wait time and cost and make the announcements myself! With a stork theme in mind, I created a little card stating a special delivery is on its way and included two "stork" feathers tied together with twine in an envelope. I purchased my feathers at Hobby Lobby for about $2 with a coupon, but you can find similar ones on Amazon here. I purchased a box of long envelopes so that my feathers could fit nicely and shipping within the USA only cost me 99 cents, or two stamps.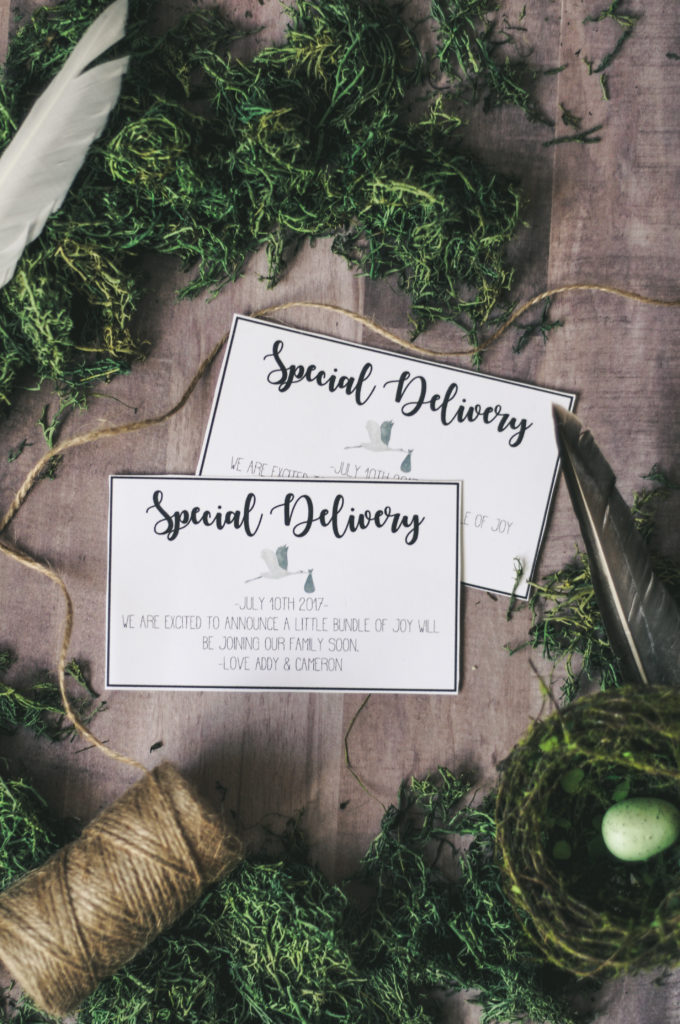 It was just as exciting with baby number two, waiting for our family members to call us and share in our joy! I decided it would be great to share my printables and make it just as easy and exciting for others to announce their pregnancy with family and friends. These announcements are fillable PDF files which means you can fill in your own text on the PDF itself. The file consists of 3, 3×5 inch cards per page. When finished, you'll have a professional looking announcement and no one will know you did it yourself! Please note that not all text is editable. "Special Delivery", is locked.
How to Create Your Announcement
Step 1. Download the PDF file below and open it with Adobe Reader. It will not work in any other program! If you do not have Adobe Reader download it for free here. (Some browsers may allow you to open the file directly within the browser without opening Adobe. Please note that this may work well for some but others may experience text to align incorrectly or include incorrect or miss matching fonts. If this happens simply press the download button on the top right corner and open in Adobe.)
Step 2. Replace the text with your own information. If you need to change the text size, color, or font press "command+E" for mac or "control+E" for Windows. When you fill in the text in one box, it will automatically fill in the others on the page.
Step 3. Print out on card stock.
Step 4. Cut out and enjoy!