We took our first big trip with our toddler a little over a month ago. Even though our flight wasn't a very long one, I knew, if my little man couldn't make it sitting through 1 hour of church, there was no way we were going to survive a 4 hour flight to Florida without serious intervention. So I did A TON of research and now that we're back, and it went surprisingly really well I might add, I'm here to tell you exactly what will make flying with your toddler a thousand times easier!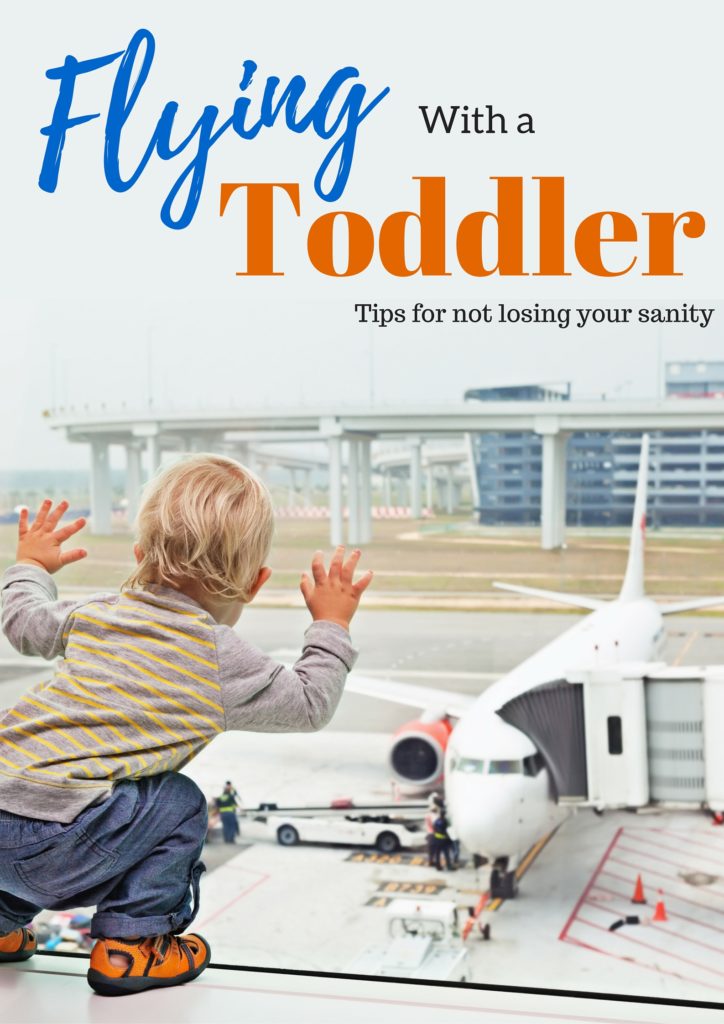 #1 Don't plan your flights around nap time or bed time unless unavoidable.
I know it seems ideal, your child sleeping on the plane, but there's really no guarantee that will happen and you probably shouldn't count on it. In total, we brought 5 kids under 4 with us on this trip, split onto two different flights. One of the flights was in the morning and the other was in the middle of the night. Out of the 5 kids, do you know how many slept? A grand total of ZERO folks. What's worse than having a restless child is having a tired and cranky one.
I know some people, and even pediatricians, have recommended Benedryl to help their toddler sleep on the plane. You should be aware however, that occasionally benedryl can have the opposite effect and the last thing you want is an extra restless and active child for your flight. We decided to plan our best with activities, snacks, and movies and hope for the best.
#2 Get those wiggles out.
We arrived 2 hours early to the airport and took our sweet time doing every thing we needed to do. While we checked in and waited, my husband and I switched off running around with our toddler and letting him get all of his energy and wiggles out. By the time we got on the plane, our toddler was all wiggled out and ready for some quiet activities.
#3 Luggage & pre-boarding.
If your flight is full, the airline will usually announce over the intercom that they will check your carry-on's for free in order to free up space in the overhead. Between holding our toddler, stroller, car seat, diaper bag, purse, and 2 carry-on's, I was all too ready to get rid of some of the luggage we had to carry on and off. Take full advantage of the free carry on gate check if they offer it and be fast because they will only do a certain amount (10 on the flights I was on).
Most airlines allow family pre-boarding (with children under 6 I believe). When we flew with Delta, I had my husband take our stroller, carseat and diaper bag with him to do the family pre-boarding and I waited with our toddler until the very last minute to board so that we were on the plane as little as possible. They will take your car seat/stroller right as you're boarding and it'll be there waiting for you when you get off at your destination. I read a few articles of people covering them in a gate check bag so they didn't get damaged. The airline staff throws them down this big long slide so I can see why people would be concerned but I didn't end up covering mine and they came out just fine.
#4 Activities and Snacks
Before we left, I hit up our local dollar store and bought a ton of fun activities and snacks that my toddler hadn't ever seen. One thing that was especially a big HIT with our toddler was STICKERS. I bought 3 different booklets of stickers in all shapes and sizes and it provided hours of entertainment. Granted, you will have to peel stickers off the seats, widows, and various body parts when you land but it was totally worth it for me. Other fun items we bought were: coloring books, a few cars, stacking toys, etc. . . I threw our nesting dolls from our house in at the last minute and he loved playing with that as well.
Make sure you bring their sippy or bottle and a sucker for them to suck on. They don't know how to pop their own ears so taking off and landing can be painful for them and having something for them to suck on helps with that. I also brought my own water bottle because can I tell you how fun it is to holding a squiggly toddler while you have open cups or cans that the airline gives you to drink from? Not fun at all. As soon as I got my drink, I immediately poured it in my water bottle (and his in his sippy) to avoid any liquid disasters.
#5 Movies
If you aren't planning on forking out money for the airlines wifi and movies, I would definitely recommend a portable DVD player or downloading a few shows/movies on your phone, tablet, or laptop that you can whip up without any internet.
#6 Relax.
Sometimes you have to throw routine and rules out the window when it comes to flying on an airplane with young kids. Our number one goal was to keep our toddler as happy as possible because we knew if HE was upset and cranky, we'd be too, as well as everyone around us. If you're doing everything you can and your still sturggling, just know that most people are going to be understanding and those who aren't, can just deal with it. 😉
Traveling with young kids can add extra challenges but can also be really fun. Hopefully some of these tips make your airplane travel much easier and more enjoyable. If you're looking for more travel tips, this is just one of many posts we have in our travel guide. If you're needing a rental car on your trip, even if you've already booked it, you'll want to read my latest post on how I saved HUNDREDS of dollars on our rental car.
Here is a link to Trip Advisor which will help you cover every aspect of your trip from hotels, restaurants and flights.