Whether it's for a wedding, Christmas, birthday, or any other special occasion, finding the "right" gift for someone you care about can be a challenge. With all of those many gifts coming at them at once, here are 5 amazing and unique gift ideas that are sure to stand out from the crowd instead of getting lost in the shuffle. I've come to find that personalized gifts work for every person in my life, no matter what age or gender they are and they always talk about my gift months, even years, down the road.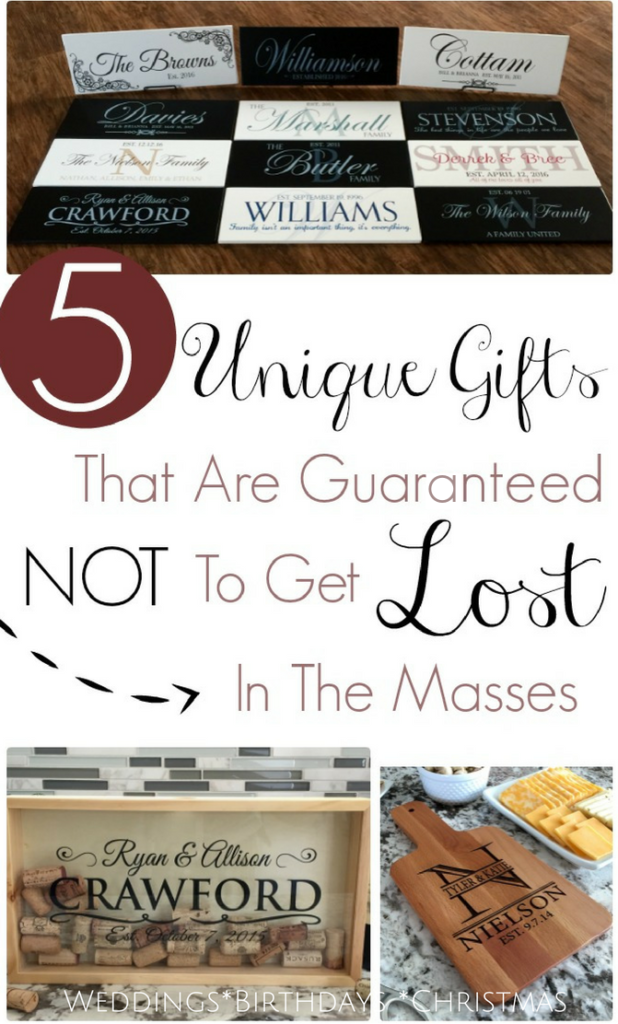 **Special Note: This Utah based company, Qualtry, has reached out to us and are offering all Uplifting Mayhem subscribers 40% off their entire order. Simply enter the code "BATCH40" at checkout!
Personalized Cutting Board
Business Wire reported on a 2010 study of bridal registries and discovered a few interesting facts. First, the most popular items couples registered for were for the kitchen. This accounted for an average of 90% of the complete registry. Instead of going the usual route, or the boring route as the case may be, with selecting something from the registry, consider giving a gift that is a little more personal. And what better way to show case a couple's new kitchen than proudly displaying a personalized cutting board. I've also gifted this to both my parents and my in-laws and they've loved it! They have several different sizes and designs to choose from to really get the look that you want. You can check out Qualtry's entire cutting board catalog here.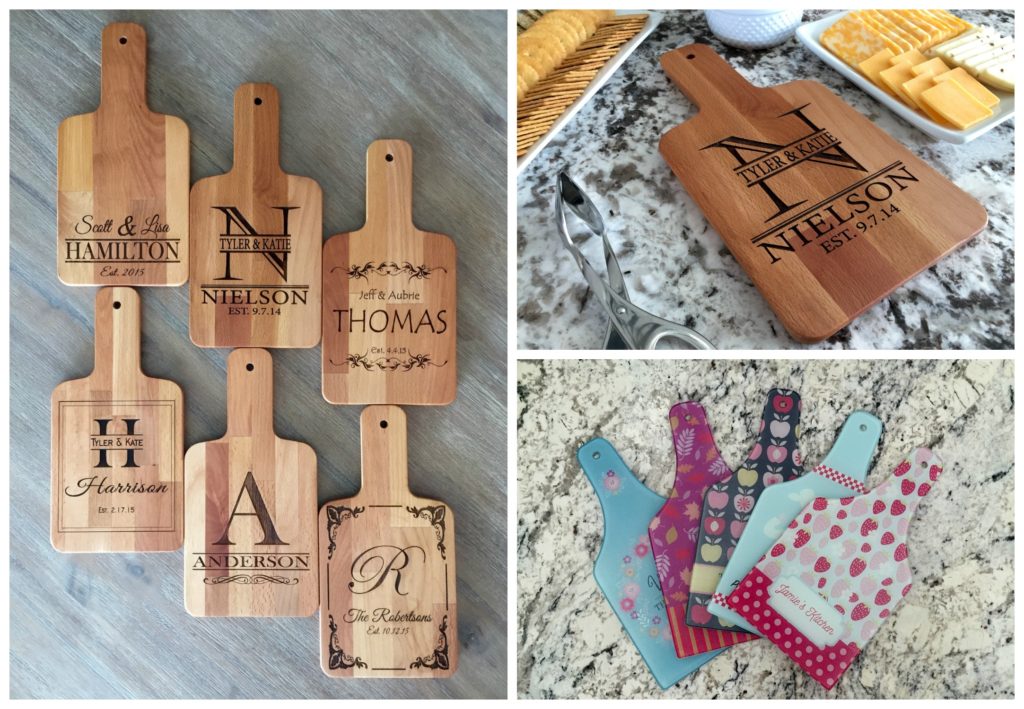 Personalized Spoons and Forks
Whether you've gone with professional wrapping or done the job yourself, a great way to make a gift truly memorable before it's even opened is to include a small personalized gift as a component of the gift wrapping. A personalized decorative spoon looks darling tucked into the ribbons of a gift or thrown into a classy gift basket. It will give the person fond memories of you and your gift every time they use the everyday kitchen item.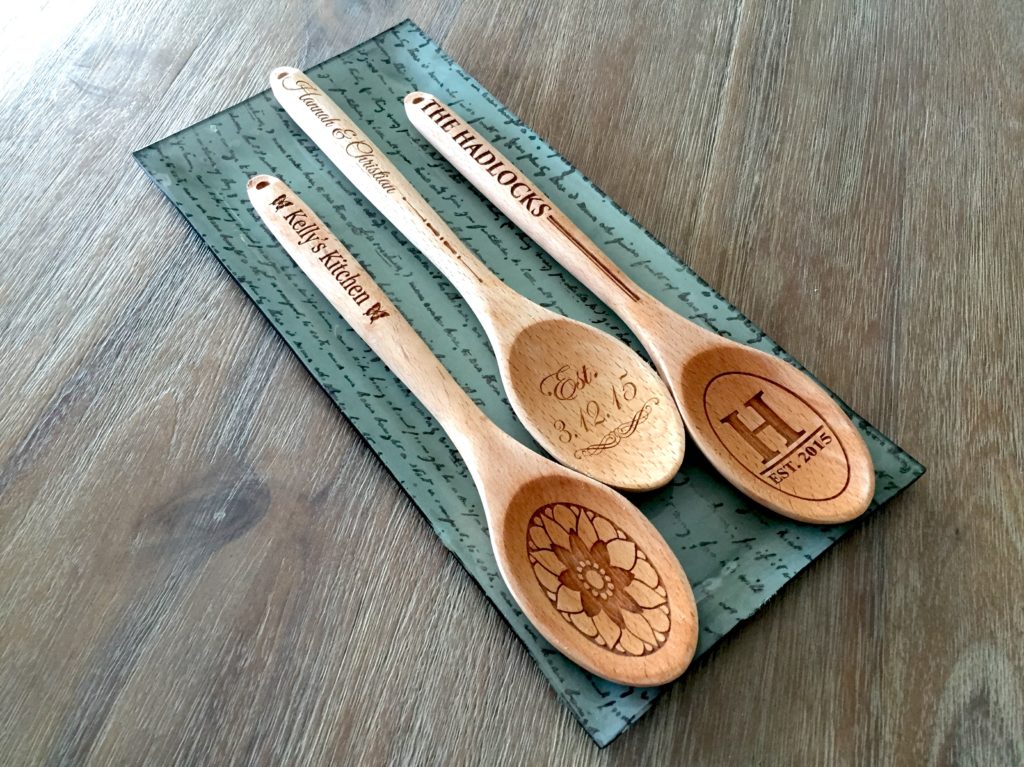 If you are looking one step further, check out this Personalized Bamboo Kitchen Utensil Holder which can hold the persons new personalized spoon/fork, as well as all of the other (much less cooler..) kitchen utensils. 😉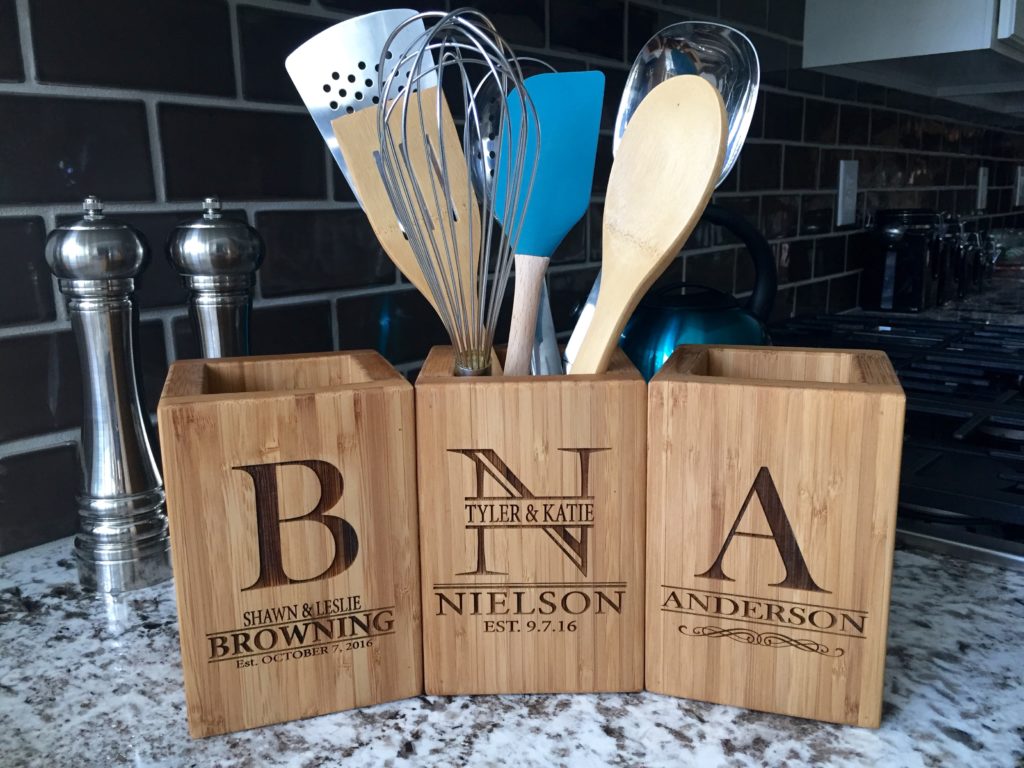 Personalized Candle-lit Lantern
These unique personalized candle-lit lanterns are sure to delight your gift recipients. I've been told they are creating a bundle kit later where you can switch out the design glass for different holiday designs similar to these Halloween themed ones. These also look absolutely stunning displayed at any Wedding Reception!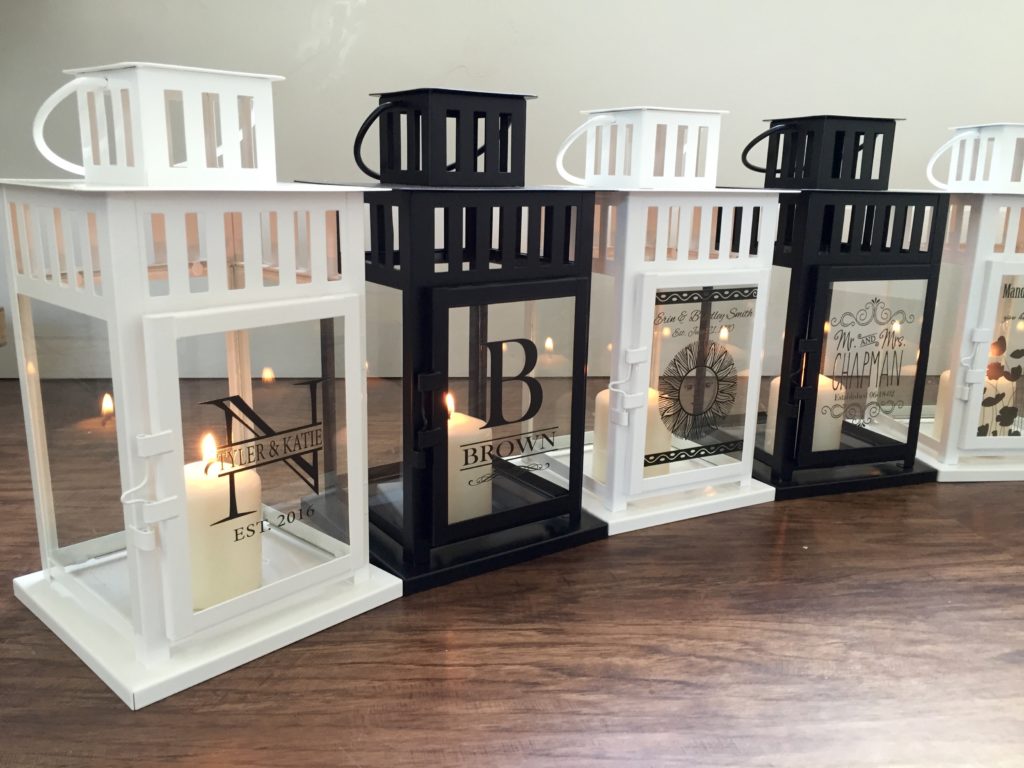 Personalized Family Wall Signs
What couple wouldn't love a gift that displays their family name a long with the special wedding date that they'll forever look back on fondly. These Family Wall Signs are completely handmade and painted. Each piece is crafted using a high-grade board, painted with high quality paint. Each sign is then personalized using a unique UV print process which will make the sign last for years to come!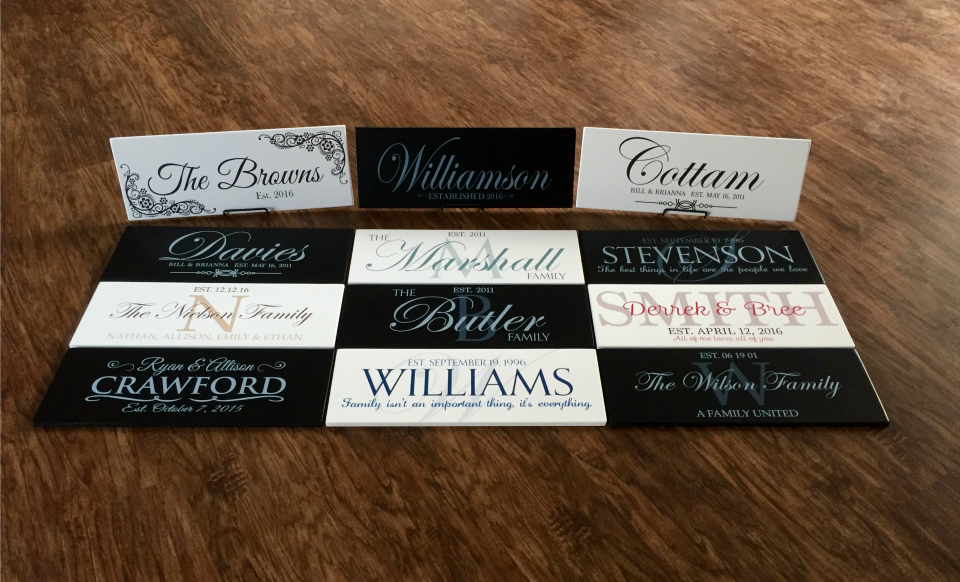 Also, I LOVE these wooden, laser engraved house signs: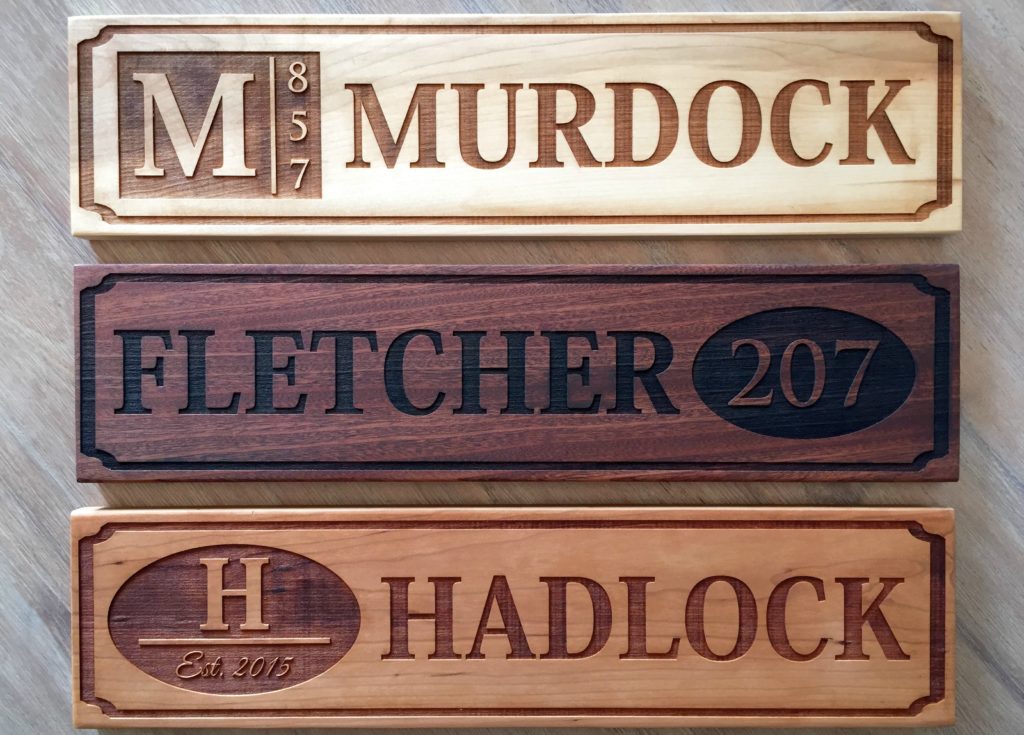 Personalized Wine Cork Keepers
These Personalized Wine Cork Keepers are another very unique and classy gift idea and come in several different designs and sizes. This product is basically a sturdy, wooden box with a hole on top and a personalized plexi-glass cover that slides down into place. You can use this to store corks, vacation memories, bottle caps, fortune cookie slips, sea-shells, etc.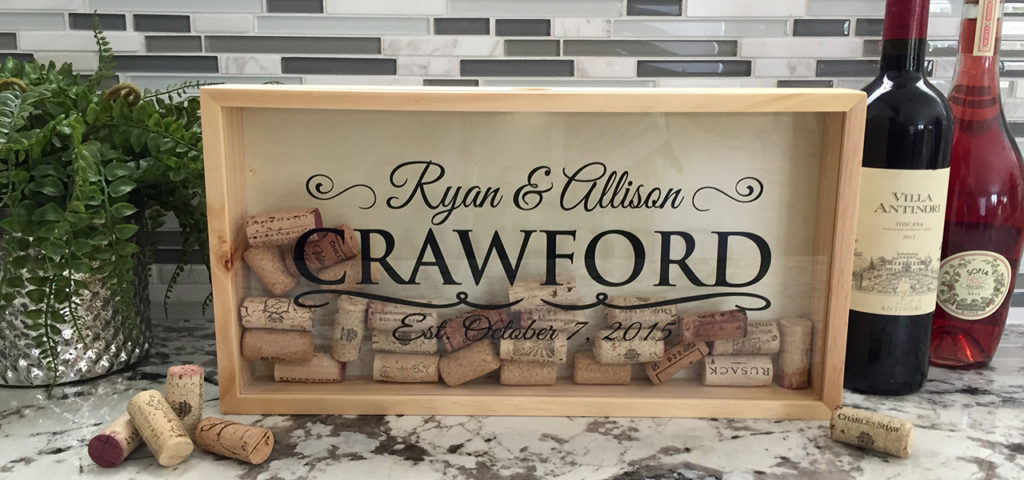 These are just 5 of hundreds of products that Qualtry offers. They have all sorts of gifts for all ages (including baby showers and fun gifts for your teenager like cellphone accessories and key chains. ). Head over to their website at www.qualtry.com to see their complete catalog. Also, remember to keep that "BATCH40" discount code handy!