I know this post is a long-time coming, and for those of you who have been asking me what I put in my healthy morning smoothies, I have finally put all of the information in one place!
For those of you who don't know, my healthy morning smoothies have totally changed my life (and possibly even saved it). I call them healthy morning smoothies instead of green smoothies, because although they are just as healthy as "green smoothies," I prefer to add enough berries to make mine purple, for visual appeal.
I found out last October that I have Lyme Disease, and although it was wonderful news to finally have an answer, it was also overwhelming. It's considered "incurable" once it's chronic, but many people have found relief through changing their diets.
I knew that I needed to feel better to keep up with my kids, but the though of revamping my entire diet (no sugar, gluten or dairy) felt overwhelming to me. Healthy morning smoothies became my answer, because not only are they easy, but they are packed with superfoods and nutrients.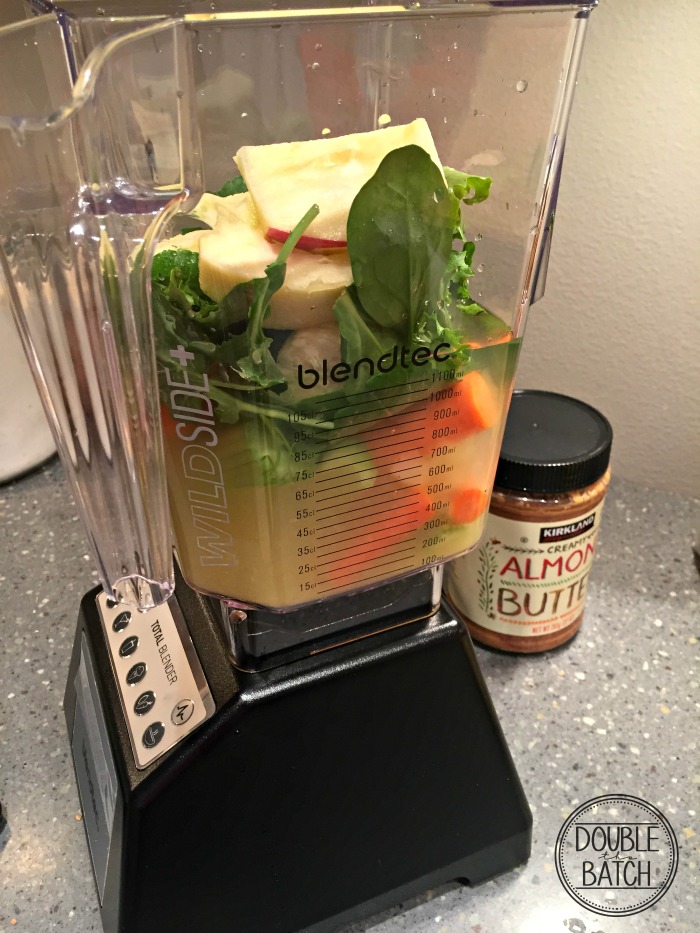 Because the Lyme Diet felt so restrictive to me (what else is there if you aren't eating dairy gluten or sugar??), I started out making smoothies for both breakfast and lunch so that I only had to worry about coming up with a recipe for one meal!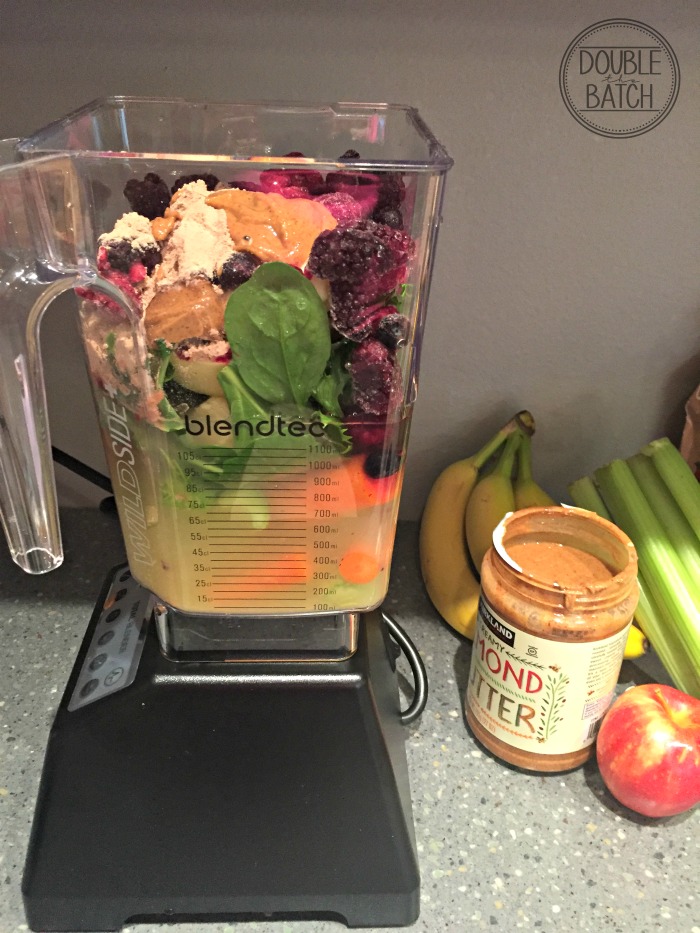 My healthy morning smoothies have more become "all day long smoothies" and some people have asked, "don't you get so tired of smoothies?"
Not really. I mix up how I make them and I put enough protein and healthy fats in them that it's not really an issue. And if I feel like chewing something, I will eat a healthy snack in between. I will say, that I don't really enjoy swallowing down a large smoothie all at once. I carry around my blender bottle and sip it down slowly.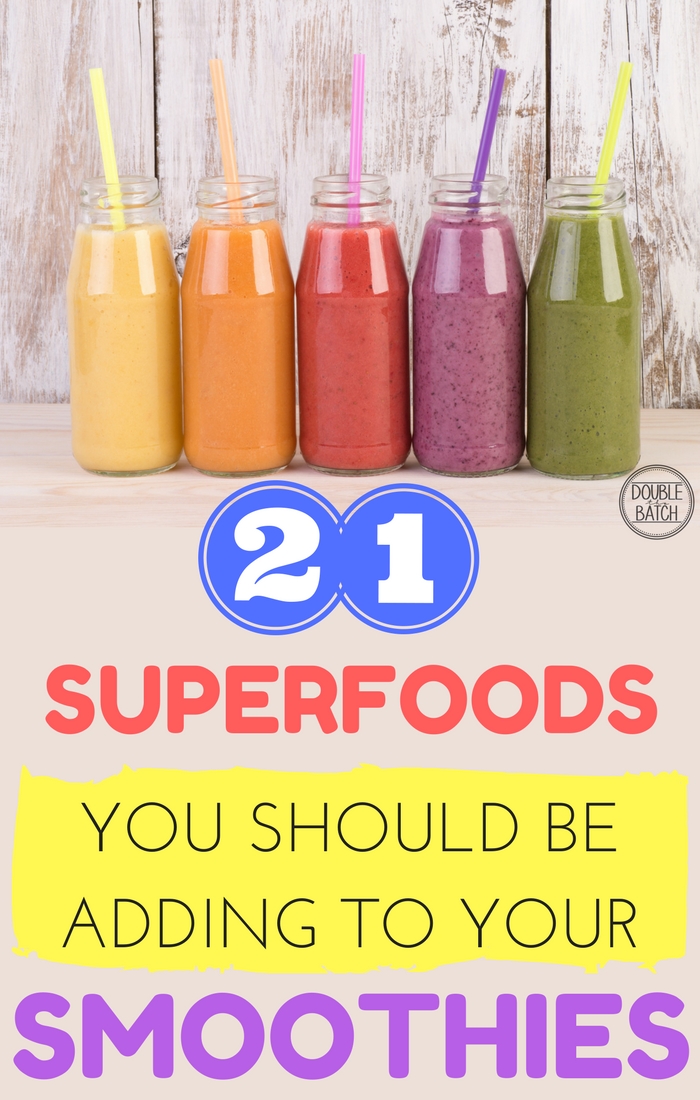 One of the biggest benefits of my healthy morning smoothies has been the increased energy, and getting rid of my brain fog. Just those two things alone make me feel like a new woman. Plus, weight loss wasn't really my focus, but it just naturally came with the deal! In just a couple months I weighed less than I did before I got married (and that's 3 kids later).
21 Superfoods to Add to Your Healthy Morning Smoothies
I always give my smoothies a base of Greens, Berries and Water (or almond milk), however, using the same greens for your smoothies can end up being toxic on your organs. Too much of a good things can actually not be so good! Which is why I switch off on what greens I use, and also alternate between these 3 healthy protein powders:
Protein Powders:
LIVfit Superfood Organic Plant Protein — Add Vegan Protein To Any Recipe, Packed Full Of Organic Superfoods, Contains 15g Of Vegan/Plant Protein, Produced by BetterBody Foods, 12.7 Ounce
doTERRA TerraGreens 10.58 OZ/300g
Vega Protein & Greens, Vanilla, 1.67 lb, 25 Servings
Other Healthy Morning Smoothie Superfoods
Coconut Oil: I add this as a healthy fat
Hemp Hearts: Great source of protein and Omegas, and less carbs than chia or flax
Chia Seeds Omegas, protein, fiber and a great source of essential minerals such as phosphorous, manganese, calcium, sodium, and potassium
Avacado: Healthy fat to keep you full and makes smoothies really creamy and yummy. I always try to have a banana or avacado in all my smoothies for creaminess.
PB2 powder Great source of protein without all the extra ingredients that you get in normal peanut butter
Almond Butter Another great source of protein. You can also use almond milk, but I prefer the homemade kind. See our recipe for easy homemade almond milk.
Maca powder Great energy booster and supports fertility and hormone balance
Flaxseed Omegas, fiber and protein, flaxseeds are great for cardiovascular health!
Acai Powder Great source of fiber and phytonutrients (antioxidants) and also healthy monounsaturated and polyunsaturated fatty acids.
Cacao Powder great for mood and energy
Camu Camu Powder: Super high in Vitamin C!
Spinach
Goji Berry Powder (this one is in some of the above protein powders)
spirulina: Iron, Copper, Vitamin B and protein
Chlorella: Iron, B12 and chlorophyl
Kale
Mixed Greens
Raw Honey: Phytonutrients, antioxidants, digestive health
Cinnamon: anti-diabetic, anti-septic, anti-inflammatory and anti-flatulent. Pairs well with banana and honey
Sprouted Beans, grains, or nuts
As you can tell, there are lots of options for what to put in healthy morning smoothies. Obviously I don't use all of these, but I do like to switch things up now and then and add something new. But every morning smoothie will usually have berries, banana (or avacado), greens, and a healthy fat and protein!
Not it's YOUR TURN!
What do YOU like to put in your healthy morning smoothies?
Check out our other article, Kid-friendly green smoothies!