I really want to do the 12 Days of Christmas with my kids this year to help them learn the joy of giving. I don't have a huge budget, but it is important to me that they aren't just focused on what they are getting for Christmas. When I sat down to come up with what we could do for "10 lords a leaping", "eight ladies dancing" and such, it made my brain hurt.
The ideas I came up with or found on the internet were either lame or expensive. So, I came up with a way simplify things a bit. I even made some printables to go along with my idea to help you out. I hope this will help you have fun, stress less, and spend less as you teach your kids the joy of giving this year!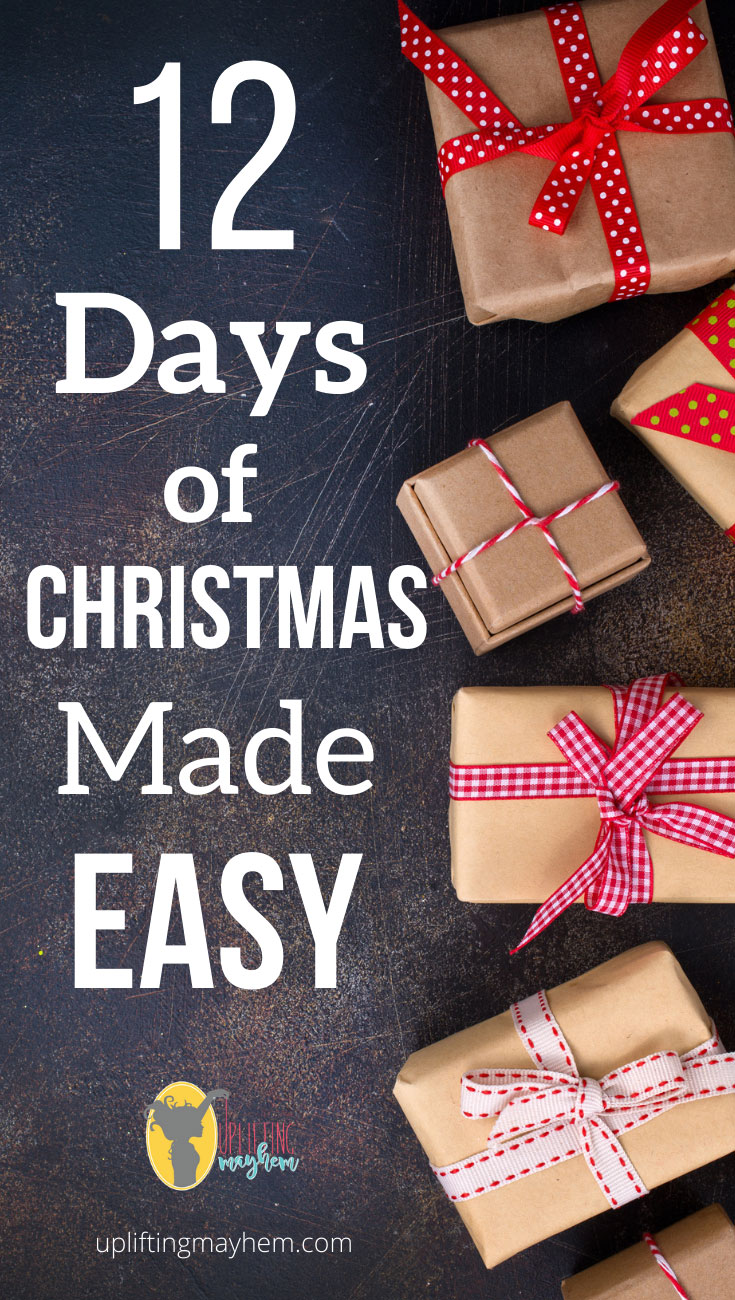 The key to simplifying the 12 Days of Christmas is to get rid of the pressure of trying to tie the gifts you are leaving on their porch to the silly words of the song. So, I wrote a poem to tie the theme of the gifts only to the number of days left until Christmas. Here is a free printable for the poem that you are welcome to use: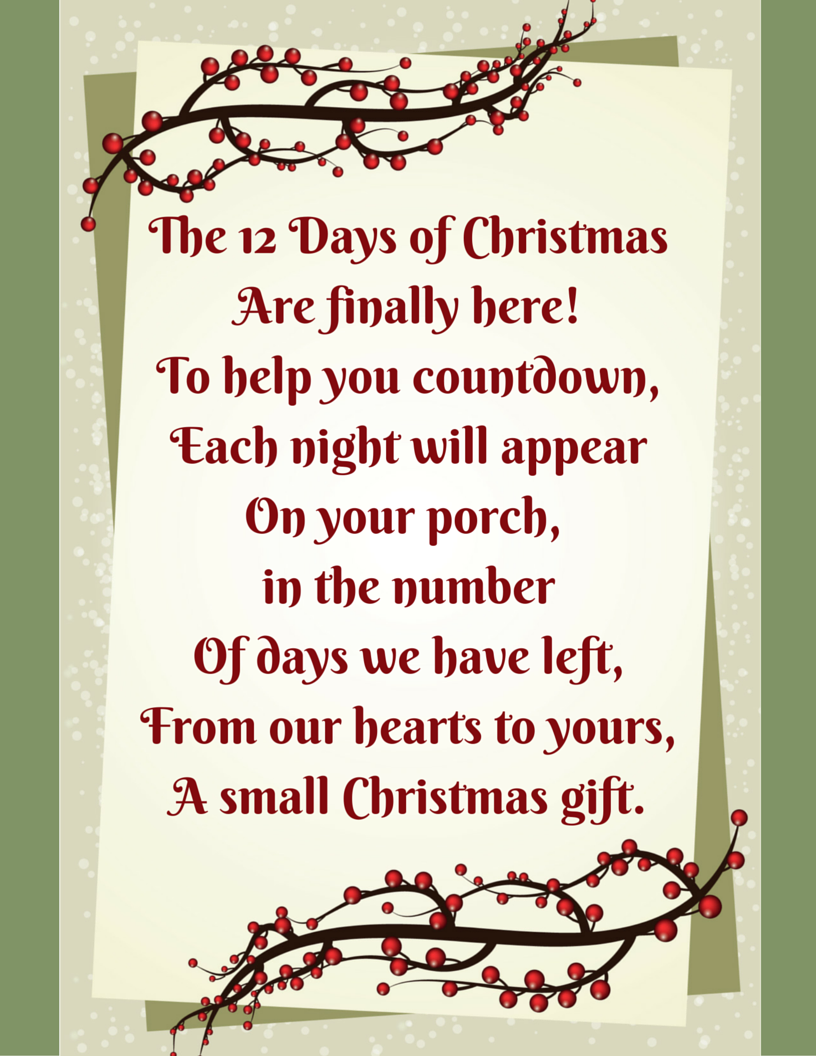 And here and here are free printable number tags for each gift: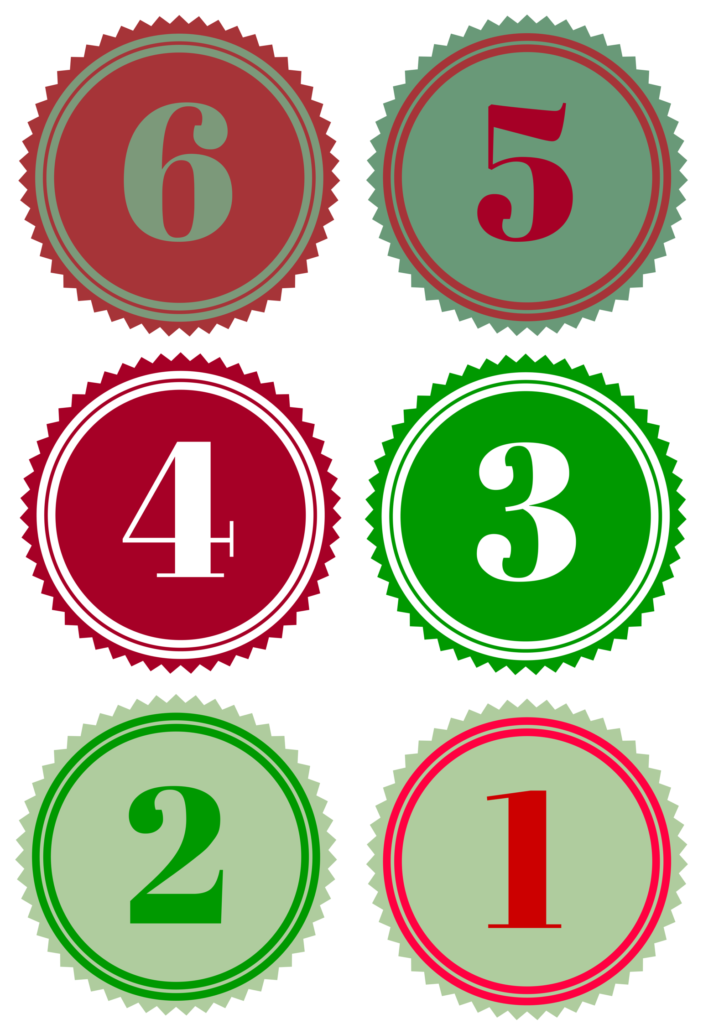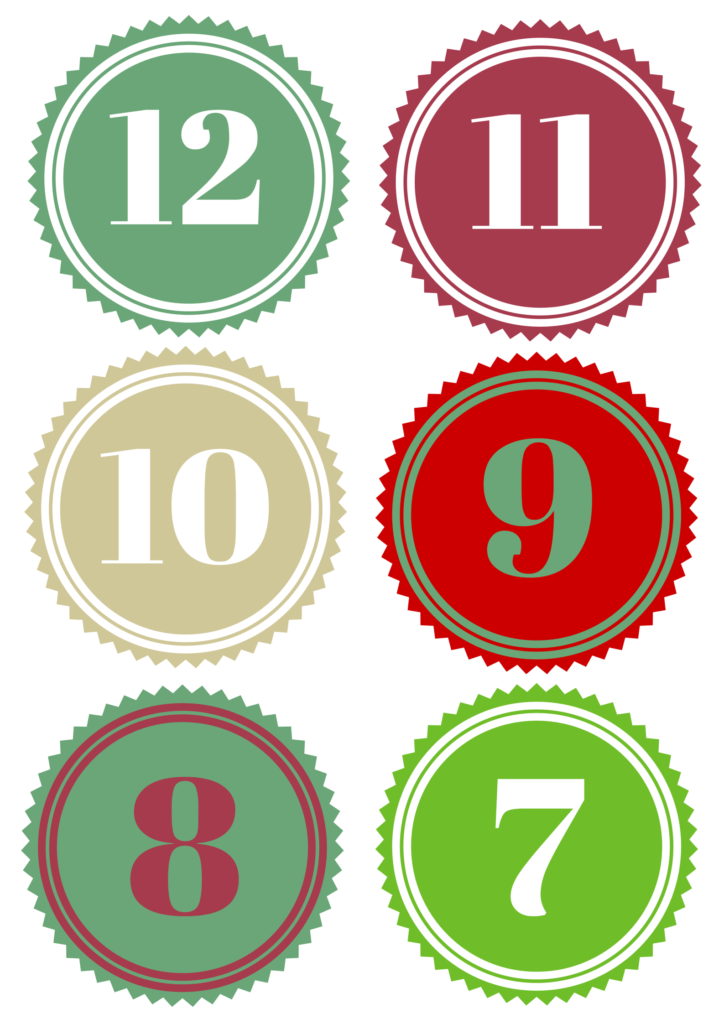 Now, your options are pretty much endless. Just choose as many of an item as the days left until Christmas. So, your first night doorbell ditching you will deliver 12 of something until finally, Christmas Eve you will leave one gift. You can adjust this to fit your budget and the age range you are giving to. Here is a list of ideas:
12 Days of Christmas Ideas SIMPLIFIED!!
Brownies

Cookies

Donuts

Pie

Cinnamon Rolls

Chocolate Oranges

Oranges/cuties

Hot Cocoa

Christmas Mugs

Cozy Socks

Lotions

Coloring books and crayons

Christmas books

Christmas CDs

DVD's

One-size-fits-all gloves

Chocolates

Christmas puzzles

Card Games

Nail polish

Fun lip gloss or chapstick

Stuffed animals

Dollar Store toys

Various Candy

Scented Candles

Bubbles

Fun flavors of bubble gum

Fresh bread

Jams and jellies

Chips and salsa or crackers and dip

Bottles of Rootbeer or other soda

Sparkling cider and plastic goblets

A fruit basket

A nativity

Special Christmas ornaments

Scented hand soaps

Stickers

Hand made items- like jewelry, blankets, hats, etc.
Giving doesn't have to be complicated. We sometimes feel we have to go all out and then when we don't find the time to go all out, we end up not doing anything at all. SIMPLIFY! Get your kids involved and create a month your kids will never forget!!
What are some of your best ideas for doing the 12 Days of Christmas?